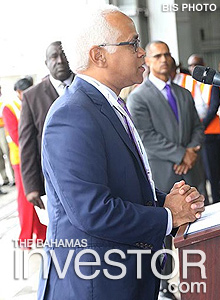 Pictured: Minister of Tourism and Aviation Dionisio D'Aguilar addresses the audience. (BIS Photo)
Prime Minister Dr Hubert Minnis and Minister of Tourism and Aviation Dionisio D'Aguilar welcomed the newest addition to Bahamasair's fleet yesterday morning.
The new Boeing 737-790NG aircraft touched down for the very first time at Lynden Pindling International Airport at 11:05 am, February 14, 2019 after traveling from Anchorage, Alaska, to Opalocka, Florida before making its way to New Providence.
A Commissioning Ceremony marking the plane's arrival took place at the Bahamasair Hangar Lynden Pindling International Airport.
Underscoring the importance of Bahamasair in linking the islands, the Prime Minister said, "The arrival of this aircraft is a sign of our nation's sustained growth and economic expansion as we continue to see strong numbers from our tourism sector."

The $11 million investment of the new aircraft will bring Bahamasair's fleet count to nine: four jets and five turbo props.
The new aircraft, which seats 138 passengers represents a significant shift as Bahamasair has now entered the long-range phase of route expansion and development, the Prime Minister said.
In 2017, the airline launched its route into the Houston market, "which played a major role in my government's strategy to identify new opportunities for international investments throughout The Bahamas, which will partner with Bahamians. By entering the Houston market, we can fly from that city and bring international passengers as far afield as China," the Prime Minister added.
The new jet also has a flying range of over five hours, fully loaded. This places the entire United States, with the exception of Alaska and Hawaii, within non-stop service of Nassau.
"This increased range opens new doors of opportunity to showcase our far-flung archipelago, through Bahamasair's network within our Family of Islands, which offers linkages between Nassau and all points within The Bahamas," the Prime Minister said.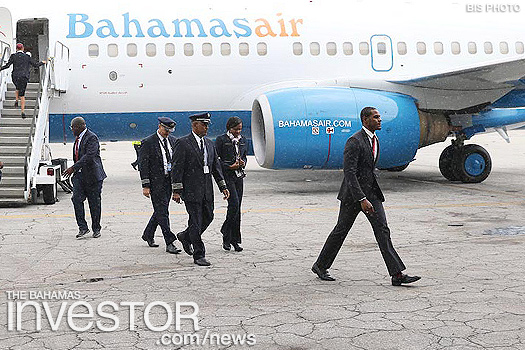 Pictured: Pilots disembark from new aircraft in Nassau, February 14, 2019.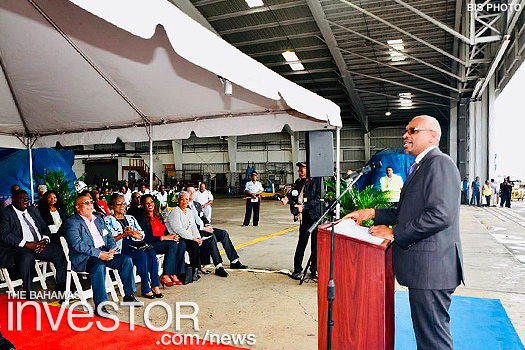 Pictured: Prime Minister Hubert Minnis addresses the Commissioning Ceremony marking the arrival of the new Bahamasair Boeing 737-790NG, February 14, 2019 upon its landing at Bahamasair's Hangar, Lynden Pindling International Airport. (BIS Photos/Yontalay Bowe and Raymond Bethel)