Deputy Prime Minister and Minister of Finance Peter Turnquest has said that blockchain technology has the potential to revolutionise the way business is done in The Bahamas.
During the "Understanding Blockchain Technology Applications: What You Need to Know" workshop hosted by the Inter-American Development Bank (IDB<-- -->) at Baha Mar Convention Centre January 31, the DPM added that Blockchain technology has the ability to propel the country in a really dramatic way to become a true leader in terms of technology and the way business is done, as well as the ease of doing business.

The workshop was facilitated by Chris Jagers and Natalie Smolenski from the Learning Machine Lab at Massachusetts Institute of Technology (MIT).
DPM Turnquest explained that with the assistance of the IDB, he and several colleague Ministers toured the MIT Lab last year and saw the potential that the technology has for The Bahamas.
"When a lot of people think of blockchains, they think about cryptocurrency. That is just one aspect of it. That is something we are doing some research into to see how we will be able to capitalise on it."
"More importantly than that is the way we can use this technology to improve the quality and efficiency of our daily lives."
He gave the illustration of the government potentially using the technology to create electronic records that are "indisputable", which would then lead to a system where records could be produced in the form of an electronic passports that individuals can take to any bank where they want to open an account.
"If we had this electronic ID card if you will, you could walk into the bank, present your ID with your access code, they could look at your records, verify who you are via your information and away you go in minutes. That is what we are talking about it."
The DPM also noted that the government is looking at how blockchain technology can be useful in producing a proper land registry, employing it with companies registering with the government.
"There are a whole host of opportunities that exist as a result of this technology and we want to explore it all and take our country to the cutting edge."
IDB Country Representative, The Bahamas Florencia Attademo-Hirt explained that emerging technologies such as blockchain have been making waves all over the world in recent years.
She said: "Very simply put, blockchain is a digital technology able to store and transport valuable information and assets securely."
"Blockchains were first used to record transactions of digital money (cyrptocurrencies), but since those early days, there have been other uses and applications of this technology."
Attademo-Hirt noted that blockchain technology has the ability to manage a large amount of data accurately allowing for it to not be tampered or altered, and could be either very transparent or confidential.
"In The Bahamas, we think we can apply blockchain to a number of areas beyond cyrptocurrencies or even the financial sector."
She said one of the goals of the workshop was to convince stakeholders, as well as get their feedback, on the usefulness of blockchain technology in The Bahamas in the area of sovereign citizen security and justice, in particular the information that is being handled by the justice system.
Another goal was to see if the technology could be used for education and training in the sense of keeping records and diplomas available and making them easily accessible to their owner of the records, employers and learning institutions.
Attademo-Hirt said they really also want to establish how useful it would be for land title registration.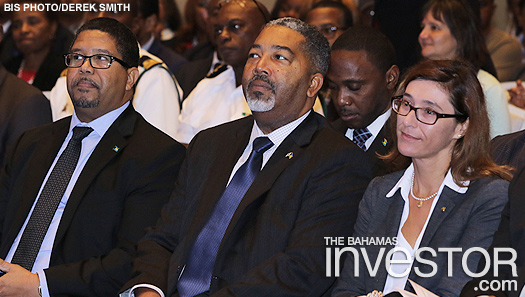 Pictured: (from left) Deputy Prime Minister and Minister of Finance Peter Turnquest; Minister of Transport and Local Government Frankie Campbell; and Inter-American Development Bank Country Representative, The Bahamas, Florencia Attademo-Hirt attend the Blockchain workshop. (BIS Photo/Derek Smith)