The first Youth Blockchain and Artificial Intelligence (AI) Hackathon and conference in The Bahamas opened at Windsor School, Frank Watson Highway, Friday, August 23, 2019.
The conference entailed panel discussions and workshops on emerging technologies. The objective of the three-day event was to "educate young adults and children of The Bahamas Islands in blockchain and AI technologies, provide them with support and mentorship, inspire them to create and develop their own projects, as well as provide them with the vision for their future in technology."

In addition to forming teams to create solutions to local problems, youngsters learned blockchain curriculum online and put their knowledge and skills to the test through projects in friendly competitions for prizes and possible internships at blockchain and finance companies.
John Rolle, Governor of The Central Bank of The Bahamas, addressed the first day of the conference.
He said The Bahamas is investing in modernizing payments as part of its financial system dealing with issues such as financial inclusion.
Governor Rolle also expounded on Project Sand Dollar, a digital fiat currency, also known as a digital e-wallet, which will be accessible through a smartphone application. The pilot project will begin in Exuma and then extend to other Family Islands.
Session topics at the conference included: digital currency, Project Sand Dollar, making The Bahamas a financial hub via blockchain, pitching techniques, and why The Bahamas is perfectly poised to lead blockchain technology adoption.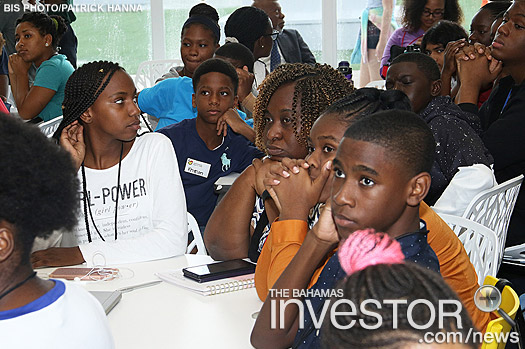 (BIS photo/Patrick Hanna)