FREEPORT, Bahamas, January 2019 /PRNewswire/ — PO8, the award-winning Bahamian tech company is leading the charge in ocean impact and asset management with blockchain solutions. Selected from a pool of over 250 tech companies competing at Demand Solutions 2018 in Santiago, Chile, PO8's innovative and impact driven solutions earned them the Creative Business Cup Award, a first for the Caribbean. "This achievement demonstrates the significant potential of the innovation ecosystem in The Bahamas and highlights the creativity of Bahamian entrepreneurs," said Mikia Carter with the IDB Lab in The Bahamas.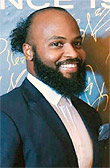 Led by Bahamian tech visionary Matthew Arnett [pictured] and co-founder Raul Vasquez, the team has found a way to improve the lives of fellow Bahamians by using blockchain technology and Non-Fungible Tokens (NFTs) to recover and reshape the ownership of $100B dollars in sunken treasures and artifacts, while driving sustained and inclusive growth to the region. NFTs convert ownership rights of recovered artifacts with economic value into a digital title, while staying in the custody of the PO8 Museum Foundation to be preserved and exhibited. With a stored value derived from its underlying asset, NFTs can be sold to anyone around the world.
"NFTs are a new store of value and commodity class," exclaimed Arnett after leading his team to victory in Santiago. "We are shifting The Bahamas from tourism to a new third pillar, which is tech, and giving young people a new dream to create in new industries like blockchain, A.I. and fintech; resulting in social and economic impact to The Bahamas by simply using something rotting away in our waters," added Arnett.
About PO8
PO8 is a marine archaeology startup utilizing blockchain technology to excavate underutilized sunken treasures and artifacts from ocean floors, generating untapped sources of revenues for funding social programs, creating jobs and jumpstarting local economies – all while protecting marine habitats. For more information visit po8.io.