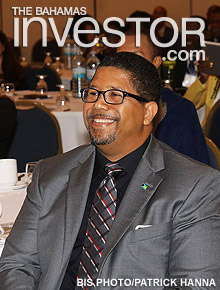 Pictured: Peter Turnquest, Deputy Prime Minister and Minister of Finance, at the IDB workshop December 4, 2017. (BIS Photo/Patrick Hanna)
The Deputy Prime Minister and Minister of Finance Peter Turnquest recently addressed the regional workshop "Rules-Based Fiscal Policy Frameworks for the Caribbean Region," presented by the Inter-American Development Bank (IDB).
The two-day event was held at the British Colonial Hilton, December 4-5, 2017 and brought together stakeholders including representatives of the IDB, government, The Central Bank of The Bahamas officials and regional policymakers for finance.
Topics for discussion included – International Experience with Fiscal Rules: Criteria of Good Practice and Effectiveness, The Long View: Fiscal Anchors, Medium-Term Fiscal and Budget Frameworks and Growth, Fiscal Institutions to Ensure Fiscal Sustainability and Stability, Design and Implementation of Fiscal Rules, Stabilization Funds and Transparency, Credibility and the Role of Independent Fiscal Institutions.

Turnquest said the workshop brings together an "outstanding" group of fiscal experts, policymakers and other practitioners who provide the ingredients for a "fruitful" and "rich" exchange on the topic of rules-based fiscal frameworks.
He said while some regional countries are further ahead than others in undertaking fiscal consolidation, there is "broad" acknowledgment of the need for stronger and more durable measures, equal to addressing the state of the country's fiscal affairs.
Fiscal and debt sustainability are topical issues on the agenda of regional policymakers, especially Ministers of Finance, both of which are important for promoting stable macroeconomic growth, he said.