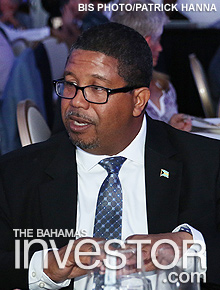 Pictured: Deputy Prime Minister and Minister of Finance Peter Turnquest at the Deltec Annual Conference at Baha Mar March 4. (BIS Photo/Patrick Hanna)
Deputy Prime Minister and Minister of Finance Peter Turnquest said the government is committed to pushing an agenda that embraces technology and innovation as a response to the dynamic times.
"This is one of the rationales for the government's focus on entrepreneurship. Specifically, we are interested in fostering a culture of entrepreneurship to unleash the full creativity and genius of Bahamian innovators," he said at the Deltec Annual Conference at Baha Mar, March 4.
He said creating a shift cannot be done by the government alone, so he highlighted that the participation of the private sector is necessary.

"We were very encouraged by the fact that commercial banks, including Scotia and the Royal Bank of Canada, joined the government, the Small Business Development Centre (SBDC), the Bahamas Development Bank and The Bahamas Venture Capital Entrepreneurial Fund to provide a targeted package of capital options for entrepreneurs, including those who are underprivileged."
He said through this partnership the government leveraged a $5 million commitment from itself to secure up to $9 million in government-guaranteed small business loans, grants and equity for participants enrolled in the SBDC's training and advisory programmes.
"We are building a strong ecosystem and it is being supported by the independent initiatives or companies such as Deltec. The Deltec Initiative for Young Entrepreneurs (DIYE) is a charitable programme that falls under Deltec's foundation.
"For too long our young people have been discouraged from pursuing self-employment as the status quo. Instead, we have bred a culture where school leavers automatically look for government jobs or jobs in traditional sectors."
The DPM said the participants in DIYE are proof that the culture is changing. The youngest entrepreneur in this cohort is only 10 years old: Karis Knowles, otherwise known as The Balloon Princess.
He said her progressive balloon company creates arrangements for all occasions, including themed events like baby showers and gender reveal parties.
The DPM also commended Deltec on their business mentorship and charitable work.
He also noted that The Bahamas is at a nascent stage when it comes to harnessing the power of disruptive technologies, but he noted that the country is making strides nonetheless.
"For us, this is not a choice; this is an imperative. We are an international financial services centre and Fintech is one of the fastest growing and innovating industries."
DPM Turnquest explained that the opportunities being currently taken advantage of include Digital Currency Initiative, potential of blockchain for government modernization and other Fintech areas of interest.
He stated that in Grand Bahama, the government set out a vision for its second city to be the tech hub for The Bahamas. Through the preliminary success of the Commercial Enterprises Act, 2018, this vision has already started to take shape.