Condor Airlines's inaugural flight from Frankfurt, Germany touched down at Lynden Pindling International Airport in Nassau November 13
Condor Airlines has made a substantial investment in the Bahamian economy with the reintroduction of direct flights between Germany and The Bahamas for the first time in over ten years.

Forty-four passengers arrived on the Boeing 767-300 series aircraft and 120 passengers are scheduled to arrive on next week's flight. The seasonal flight will be offered once a week until April 30, 2018.
Tyrone Sawyer, senior director of airlift development at the Ministry of Tourism and Aviation, said that visitors will not only experience the best of Nassau, but they will also have the opportunity to visit the Family Islands during their stay.
"Because of the partnership, not only with Condor, but also the various tour operators, we will now have the ability to bring people from places like Munich, Berlin, Milan, Copenhagen and Denmark. We will also have representation from the various Out Islands, Nassau/Paradise Island and Grand Bahama promotion boards, and through an interline arrangement with Bahamasair, passengers will have the opportunity to go to every single island in The Bahamas. This allows us to spread tourism not only to Nassau but also throughout The Bahamas, which meets a very important objective of the ministry," he said.
It is estimated that the flights from Germany will total approximately 5,387 stopover visitors at an 80 per cent load factor resulting in an estimated 18,855 room nights with an average of seven night stays. Tourism officials are looking forward to $8.1 million in visitor spending with an average spend of $1,504 per visitor.
"This flight is the beginning of what's going to be a significant increase in the number of stopover visitors. We're hoping that while this is seasonal, it will eventually become a year-round routine and will result in other flights directly from Europe bringing the tourists and visitor spend that we need," said Frankie Campbell, Acting Minister of Tourism and Aviation.
Captain Sebastian Schoggler who piloted the inaugural flight said: "We're happy to be here again. I think it's the first flight in over ten years and it's very important to have direct flights here to The Bahamas. We have the cooperation of Bahamasair so we are happy that our passengers will experience other islands."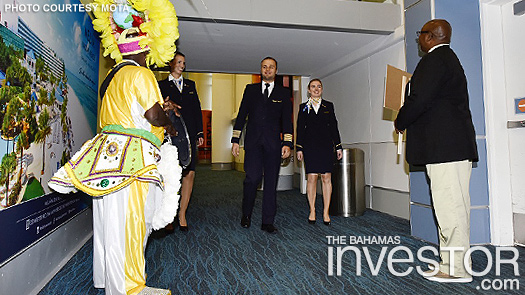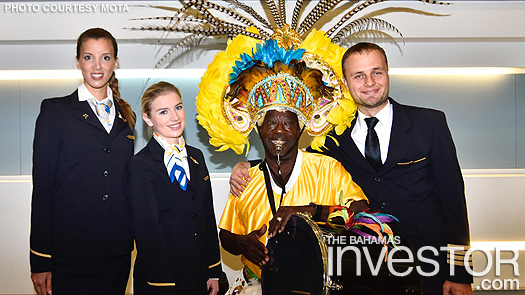 Pictured: Capt. Sebastian Schoggler and his crew welcomed by the sounds of the Junkanoo drum after the 10.5 hour flight from Frankfurt, Germany. (Photo courtesy MOTA)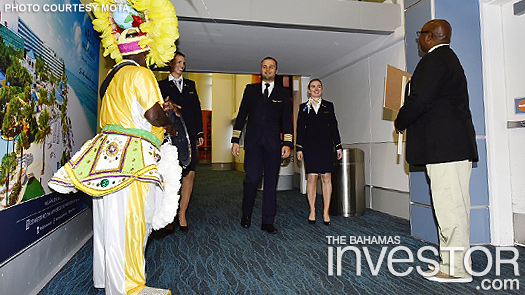 Pictured: Frankie Campbell (second from left); Capt Sebastian Schoggler – pilot, Condor Airlines; Travis Robinson; and Tyrone Sawyer pose for a photos with crew members after the arrival of Condor Airlines inaugural flight from Frankfurt, Germany. (Photo courtesy MOTA)