The Bahamas Ministry of Tourism and Aviation's Airlift Team took the opportunity to meet with American Airlines's newly appointed senior regional manager – Caribbean, Wellesley Joseph and Caroline Hollingsworth, AA's Bahamas country manager, in Nassau.
The group met to discuss key issues affecting the partnership between AA and The Bahamas, not the least of which is the enhancement of the customer experience.
"AA is a very solid leader and committed airline partner to The Bahamas," said Tyrone Sawyer, senior director – airlift at the Ministry of Tourism (pictured).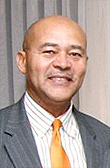 "We see great strides being made by AA. This is evident in AA's growing 'footprint' in The Bahamas by virtue of its recently introduced Saturday flights to Marsh Harbour and North Eleuthera from Charlotte and its Saturday flights from New York/La Guardia and Chicago/O'Hare to Nassau."
"On behalf of the Honourable Minister of Tourism & Aviation, we thank American Airlines for its sustained support of Bahamas tourism."
AA has more nonstop flights to more destinations in The Islands Of The Bahamas from more originating points than any other airline.
AA provides nonstop flights from Miami and Charlotte, Philadelphia, Dallas and Chicago to Nassau.
AA also provides nonstop flights from Miami and Charlotte to Freeport, and nonstop flights from Miami (and now, Charlotte) to North Eleuthera, George Town, Exuma and Marsh Harbour, Abaco.