Source:
Date:
Updated:
Author:
TheBahamasInvestor.com
Wednesday, November 15, 2017
Wednesday, November 15, 2017
Tosheena Robinson-Blair
Where others see challenges, brothers Scott and Craig Lines of LOM Financial (Bahamas) see opportunities.
It's why their firm is deepening its involvement in the offshore industry, as onshore critics say the tides are going out, not coming in.
On November 9, the firm officially opened its corporate office – the 3,708 sq ft LOM House at Old Fort Bay, purchased by the company's real estate arm, LOM Properties Ltd for $2 million. LOM has set up shop on the first floor and plans to rent the other floor to tenants.

Growth has slowed in the offshore world since the adoption of Qualified Intermediary, the Foreign Account Tax Compliance Act and the Common Reporting Standard all designed to close US tax loopholes.
Even as many of the world's largest banks and financial institutions have withdrawn from the offshore market altogether, or are quietly shrinking their business and service offerings LOM Bahamas principals say the dramatically changing landscape is, in fact, creating more growth opportunities for the company which caters to high-net-worth individuals overseas and expatriates living in The Bahamas.
However, not all clients would agree. According to Scott Lines, LOM Financial Group's chairman and CEO, some clients left. They felt statutory and regulatory changes resulted in a scenario where it was less advantageous for them to be offshore.
"These changes and the cost associated with them have caused some to questions the future viability of the offshore financial industry," said the CEO.
"Although we acknowledge the nature of the offshore business is changing, we still believe that there is an important role for offshore financial centres. For financial wealth management companies it is important to be physically and substantially in those offshore jurisdictions when they cannot only efficiently and effectively service the offshore client and their structure but really know and understand them and their advisors and assist them in working through often complex structures."
The LOM Group, a publicly held company majority owned by a Bermudian family, began operations in Bermuda in 1992 and was incorporated in The Bahamas in early 2001. The firm spent its first three years operating in Grand Bahama before relocating to New Providence.
LOM provides multi-currency accounts, global trade execution and custody, investment advisory services, wealth management and corporate finance services.
Its private banking services include trade execution in equities, bonds, options and futures settlement, clearing & custody online global equity trading on all major exchanges. On the wealth management front it offers internal and external mutual fund managers, discretionary portfolio management, captive management investment services.
The offshore financial services provider has spent considerable sums developing its "high-tech/high-touch system – a necessity for a firm with clients based in 29 countries.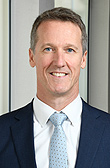 Pictured: Craig Lines, president and director of LOM Financial (Bahamas) on New Providence, The Bahamas. (Photo courtesy Azulify)
Craig Lines, president and director of LOM Financial (Bahamas) touts it as "one of the best, if not the best in the offshore world" allowing the firm to trade globally within its network, which encompasses its headquarters in Bermuda, LOM UK in Bristol, LOM Asia in the Philippines and its local firm.
More importantly for its expatriate clients, the president said, LOM is able to select investments where there is possibly no withholding tax on the source.
The company boasts that its asset management team comprised mainly of chartered financial analysts with deep investment experience "consistently beat the indexes" in their sector.
"We spent a lot of time on our asset management division, our portfolio mutual funds, making sure they were substantive and have had very good performance," said the LOM (Bahamas) president. "Many of them are 10 to 12 years old, four or five-star rated by Morning Star so some of the best in the offshore world on a consistent long-term basis, with good performance [and] clear understandable investment objectives."
At the opening event, the Lines brothers hedged their bets, drawing on a Bermuda good luck omen. They wet the roof of their corporate office with a liberal dash of black rum.
"LOM's central objective is to provide great service with understandable and solid investment strategies in order to deliver consistently good performance," said the group's president. "We believe that this is what will succeed in the offshore world. That's our goal and that's what we deliver."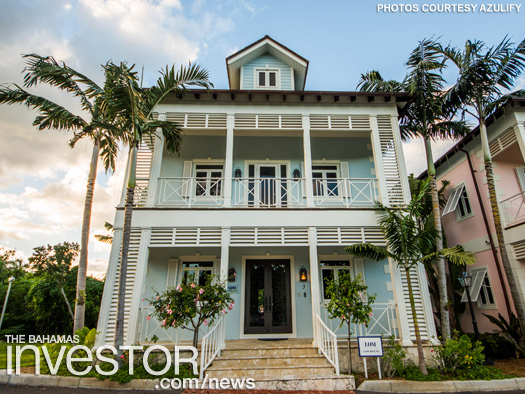 Pictured: LOM House, New Providence, The Bahamas (Photo courtesy Azulify)
tblair@dupuch.com