Source:
Date:
Updated:

Warwick Hotels
Friday, May 27, 2016
Friday, May 27, 2016

Warwick Paradise Island Bahamas has named industry veteran Benjamin Davis as general manager of the 244-room, adults-only, all-inclusive resort set to open this summer in The Bahamas.
Davis brings 38 years of hospitality industry experience to his new position with the last 17 years spent at Bahamas' hotels. Davis is working with the executive team from Warwick International Hotels to launch the resort and will oversee every aspect of the day-to-day operations.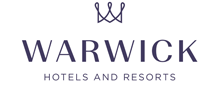 "Benjamin Davis' extensive knowledge and expertise of the hotel industry and The Islands of the Bahamas made him the most qualified candidate for general manager of Warwick Paradise Island Bahamas", said Richard Chiu, President, Warwick International Hotels.
Davis was most recently the general manager at Grand Lucayan on Grand Bahama Island where he spent five years (2011 – 2016) managing the 1,271-room resort. Prior to that, Davis served as chief operating officer for Restaurants Bahamas, the largest restaurant operation in the Bahamas. Davis was general manager at Bimini Bay Beach Resort from 2007 – 2009. He held the positions of vice president and general manager during his four years at the 700-room Radisson Cable Beach and Golf Resort on Nassau. Davis was the hotel manager for Our Lucaya when it opened its doors in 1999.
Davis has held various positions with other Caribbean resorts including Barbados' Almond Beach Village and Forte Hotels' Nassau Beach Hotel in The Bahamas, Jamaica Pegasus in Kingston, and Sandy Lane Hotels in Barbados. Davis started his career in London where he worked at Four Seasons Inn on the Park and Forte Hotels' Grosvenor House.
Davis has been a board member of the Bahamas Hotel and Tourism Association for the past nine years. He also served for four years as a board member of the Jamaica Hotel and Tourism Association. Davis was honoured by Forte Hotels with the "Newcomer of the Year" award in 1991.