Bahamas-based Sterling Global Financial, a company which claims to have supported over $300 million in high-end residential and resort projects around The Bahamas, launched its local bank and trust arm yesterday.
The integrated banking and financial services provider capitalizes select real estate projects through debt and equity lending.
Among the projects in which Sterling has an interest are: The Marriott Hotel in downtown Nassau; Ocean Terrace on West Bay Street; the new luxury condo Thirty/Six on Paradise Island; and the 20-room Sky Beach Club in Governor's Harbour, Eleuthera and a private island just off Abaco.
Sterling Global reports more than $9 billion in assets under "administration and operations" in The Bahamas and Cayman Islands with a nearly 40-strong staff between the two jurisdictions.
It also owns the oldest trust company in the Cayman Islands–Sterling Trust (Cayman) Ltd, which was established in 1970 in Grand Cayman to provide offshore corporate, trust and partnership administration services.
Chairman David Kosoy says that listed among Sterling Global Financial's 1,500 clients are Fortune 500 companies, multi-national public companies, high-net-worth individuals, family offices and pension funds across the globe.
These clients invest through one or more of the company's funds including the New Providence Income Fund. Launched in 2011, it reported an overall return of 13.8 per cent in 2015.
"High-net-worth individuals or trusted institutional investors are no longer seeking the secrecy they once did. The rules have changed," said Kosoy, who has 50 years of real estate investment, lending and development experience operating in Canada, the US, UK, Turks and Caicos and The Bahamas.
"They want to know their investment is secure and the companies acting on their behalf are doing so with efficiency, attention to detail, and that they understand the market and are quick to respond. In other words, today's success story is all about service, speed, savvy, security."
Sterling Global continues to strategically grow its range of services to meet the needs of a highly sophisticated client base, he says.
Sterling Bank & Trust, the property-based investment firm, will operate out of Sterling's current East Bay Street location across from Nassau harbour on East Bay Street.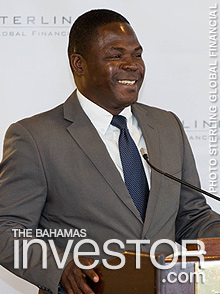 Pictured: Khaalis Rolle, Minister of Investments brings remarks during the launch of Sterling Bank & Trust May 26, 2016, Luciano's of Chicago restaurant, Nassau. (Photo courtesy Sterling Global Financial)
Government representatives at the launch included Minister of State for Investments Khaalis Rolle and Minister of Financial Services Hope Strachan.
The government has a "stellar relationship" with Sterling, said Rolle during his brief remarks at the launch ceremony held at Luciano's of Chicago restaurant in Nassau May 26.
"It's one of the companies in the country whose brand is understated, very subtle, but it does quite a lot of work in terms of economic development," he said.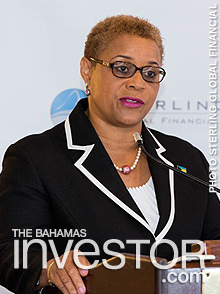 Pictured: Hope Strachan, Minister of Financial Services congratulates Sterling Bank & Trust on its launch May 26, 2016, Luciano's of Chicago restaurant, Nassau. (Photo courtesy Sterling Global Financial)
"There's quite a number of applications that come before us where they are lending a lot of money to a lot of people and that helps to continue the economic development thrust of the government along with the private sector."
According to Minister Strachan, in order to meet the challenges that technological change brings, financial institutions must change the way they conduct business through innovation, technology, diversity of products and services and through investment in human capital resources.
"Sterling Global Financial is one such example of this," she said.
"We have no doubt that the New Providence-based bank, as well as the existing entity, will continue to innovate and to add to its technological services to the benefits of its clients."
Pictured: Members of the government meet with Sterling Global Financial executives May 26, 2016, Luciano's of Chicago restaurant, Nassau. Left to right: David Kosoy, chairman Sterling Global Financial; Hope Strachan, Minister of Financial Services; Khaalis Rolle, Minister of Investments; and Steve Tiller, president and COO Sterling Global Financial. (Photo courtesy Sterling Global Financial)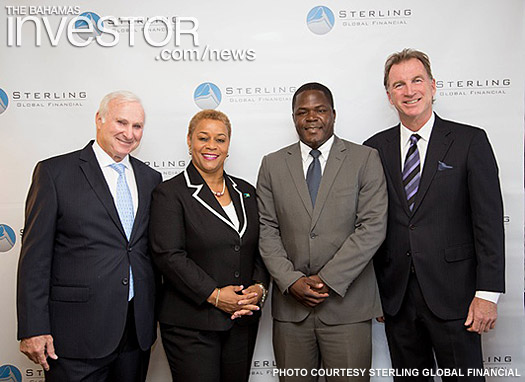 tblair@dupuch.com