The combination of Bahamian food, drinks, music and culture all makes for one thing: a slamming party in the backyard. And hundreds of Bahamians in the tri-state area, American travel agents and journalists were treated to just that. In celebration of Caribbean Week in New York, the Ministry of Tourism hosted a party in the backyard that was chock-full of Bahamian delights.

In fact, one of the guests commented that the only thing that was missing was the Bahamian sun.
The beat of the goat skin drum, the steady clang of the cowbells and the melodic rhythm of the brass horns, got the party started. As the Colors Junkanoo Group weaved through the exuberant crowd, many party-goers joined in.
When the last whistle blew, Bahamian performers Stileet, Puzzle, D Mac, Fanshaw and Ira Storr and the Spank Band took the stage and brought some of their down-home music.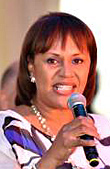 Ministry of Tourism Director General Joy Jibrilu (pictured) said the aim of the event was to remind Bahamians living in the tri-state area how great their home is and encourage them to be ambassadors and spread the word about The Islands of The Bahamas.
She added that the party also gave the media and travel agents a real feel of the Bahamian culture instead of just talking about it.
"It was an incredible event with an amazing atmosphere," Jibrilu said.
"The energy was high. Some Bahamians living in New York City haven't seen Junkanoo in more than 10 years."
But the party provided more than just entertainment.
Chef Simeon Hall cooked a traditional Bahamian meal to add to party's authenticity: peas and rice, coleslaw, fried fish, macaroni, conch fritters along with okra soup. Healthy servings of guava duff were served for dessert.
To wash that all down, the Ministry of Tourism provided bahama mamas, switcher and fruit punch. Benny cakes and Mortimer's candy were also provided.
Jibrilu said the party couldn't have gone any better.
Caribbean Week, the largest regional tourism activity in New York, ended on Sunday with the Caribbean Rocks concert. Several Bahamian artists also performed.