Source:
Date:
Updated:

Baha Mar
Tuesday, August 19, 2014
Tuesday, August 19, 2014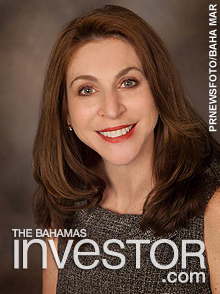 Whitney Thier, Vice President and General Counsel for Baha Mar. (PRNewsFoto/Baha Mar)
NASSAU, The Bahamas, August 2014 /PRNewswire/ — Baha Mar, the $3.5 billion integrated destination gaming resort, today announced that Whitney Thier has been named Executive Vice President and General Counsel, effective immediately.
Thier, who will report to Tom Dunlap, Baha Mar's President, will lead the resort company's legal team as well as assume a key role on the company's executive committee. She succeeds Uri Clinton, who joined Baha Mar in 2011 and has chosen to relocate with his family back to Las Vegas. Thier joins the company at an important juncture, as Baha Mar completes its construction phase and readies itself for its highly anticipated Grand Opening in Spring 2015.

Thier is uniquely qualified to help Baha Mar become one of the world's premier gaming resort destinations. Her previous roles as Executive Vice President, Legal and Government Affairs of CG Technologies, L.P. and General Counsel of Fontainebleau Resorts have given her extensive experience in regulatory law, management agreements, gaming technologies, intellectual property, capital financing structures, human resources and resort operations in the United States and internationally. Thier holds a Juris Doctor degree from Tulane Law School and a Bachelor of Arts degree from Dartmouth College. Thier will be relocating with her family to Nassau.
About Baha Mar
Baha Mar is set on 3,000 feet of white sandy beach just 10 minutes from Nassau's fully renovated and expanded international airport. It will feature an elite collection of hotel brands with gaming, entertainment, private residences, shopping and natural attractions that reflect an authentic Bahamian experience. The resort's Grand Opening celebration is planned for Spring 2015. The Baha Mar Casino & Hotel, managed by Global Gaming Asset Management, includes a 1,000-room hotel and a 100,000-square-foot Las Vegas-style casino. Baha Mar also will include a 700-room Grand Hyatt, a 300-room SLS LUX, and a 200-room Rosewood. Amenities will include a Jack Nicklaus Signature golf course; 200,000 square feet of flexible convention facilities, including a 2,000-seat entertainment venue; an ESPA spa; art galleries featuring Bahamian art; more than 40 restaurants, bars and clubs; global luxury designer and local artisan boutiques; and 20 acres of exquisitely landscaped beach and pool experiences, including a beachfront sanctuary with native Bahamian flora and fauna. In addition, upon completion of renovations, the all-inclusive Melia Nassau Beach will become part of Baha Mar. For more information or to sign up for previews starting in December 2014, please visit bahamar.com.