Source:
Date:
Updated:

Baha Mar
Wednesday, August 20, 2014
Wednesday, August 20, 2014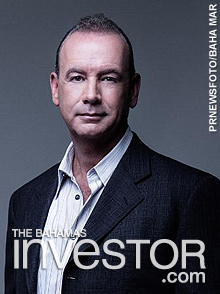 Joe Brunini, President of Global Marketing and Customer Development for the Baha Mar Casino & Hotel. (PRNewsFoto/Baha Mar)
NASSAU, The Bahamas, August 2014 /PRNewswire/ — Baha Mar, the $3.5 billion integrated destination gaming resort, today announced that Joe Brunini has been named President of Global Marketing and Customer Development for the Baha Mar Casino & Hotel. The crown jewel of the destination gaming resort, the Baha Mar Casino & Hotel will feature the largest casino in the Caribbean with 100,000 square feet of gaming space and a 1,000-room luxury hotel. Baha Mar's Grand Opening celebration is scheduled for Spring 2015.

Brunini, a 30-year veteran of the casino and integrated resort industry, will identify emerging markets and oversee international customer development and marketing initiatives for Baha Mar. Brunini's experience includes more than 12 years as a senior gaming executive with MGM Resorts International, where he most recently served as President, Marketing & Customer Development. During his tenure at MGM, Brunini was responsible for casino operations, customer development, marketing strategy, strategic alliances, expanding the company's high-net-worth clientele, and maintaining long-term player loyalty at the company's gaming resorts worldwide.
Prior to joining MGM Resorts in 1998, Brunini served in a variety of key marketing and operating positions with Caesars Entertainment. As Senior Vice President of Casino Operations for Caesars Atlantic City in New Jersey, Brunini was responsible for casino operations and administration; casino credit; player development; and casino marketing initiatives. Brunini started his casino industry career as a table games dealer in 1980, and worked his way through several casino and hotel management positions at Caesars.
"Joe's focus on team-building, expertise in operations, gaming and marketing will play a major role in positioning Baha Mar as a premier gaming destination resort," said Paul V. Pusateri, Baha Mar's Chief Operating Officer. "His knowledge of high-net-worth clients, as well as his track record of developing player loyalty at highly successful casino resorts, will be invaluable in taking Baha Mar and The Bahamas to the next level as an international casino market."
Brunini noted that Baha Mar's location, unique beachfront site, and stunning design will attract global travelers seeking a luxurious, exciting resort environment. "Baha Mar's state-of-the-art casino, world-class service and Bahamian hospitality will create a unique experience to compete with the best resorts worldwide," Brunini said. "I'm excited to join a company with such great vision, and to help build an international gaming resort with a true commitment to customer service, employee development and community involvement. We are working hard to build a diverse, cohesive team that will make Baha Mar one of the world's most successful gaming destinations."
Baha Mar, featuring an innovative integrated design by architect Mike Hong, will offer upscale hotels, a Las Vegas-style casino, luxury shopping, fine dining, nightlife, outdoor adventures, art galleries, golf, tennis and wellness experiences to compete with the best the world has to offer. Its high-profile partners include a host of outstanding names such as golf legend Jack Nicklaus; ESPA Spa at Baha Mar; and Kravitz Design, the firm led by Grammy Award-winning performing artist, actor and designer Lenny Kravitz.
About Baha Mar
Baha Mar is set on 3,000 feet of white sandy beach just 10 minutes from Nassau's fully renovated and expanded international airport.  It will feature an elite collection of hotel brands with gaming, entertainment, private residences, shopping and natural attractions that reflect an authentic Bahamian experience. The resort's Grand Opening celebration is planned for Spring 2015.  The Baha Mar Casino & Hotel, managed by Global Gaming Asset Management, includes a 1,000-room hotel and a 100,000-square-foot Las Vegas-style casino. Baha Mar also will include a 700-room Grand Hyatt, a 300-room SLS LUX, and a 200-room Rosewood.  Amenities will include a Jack Nicklaus Signature golf course; 200,000 square feet of flexible convention facilities, including a 2,000-seat entertainment venue; an ESPA spa; art galleries featuring Bahamian art; more than 40 restaurants, bars and clubs; global luxury designer and local artisan boutiques; and 20 acres of exquisitely landscaped beach and pool experiences, including a beachfront sanctuary with native Bahamian flora and fauna. In addition, upon completion of renovations, the all-inclusive Melia Nassau Beach will become part of Baha Mar.  For more information or to sign up for previews starting in December 2014, please visit