Source:
Date:
Updated:

Baha Mar Resorts
Wednesday, August 27, 2014
Wednesday, August 27, 2014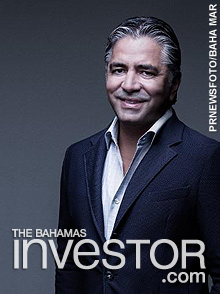 Alex Pariente, Executive Vice President, International Marketing, Baha Mar Casino & Hotel. (PRNewsFoto/Baha Mar)
NASSAU, Bahamas, Aug. 25 2014 /PRNewswire/ — Baha Mar today announced that Alex Pariente has been named Executive Vice President, International Marketing for the Baha Mar Casino & Resort, the centerpiece of the $3.5 billion integrated gaming resort. The Baha Mar Casino & Hotel, which will feature the largest casino in The Caribbean with 100,000 square feet of gaming space and a 1,000-room hotel, is designed to compete with the best casinos in the world.
Pariente will focus on developing the Baha Mar Casino & Hotel's international gaming clientele, as well as building strategic marketing alliances and brand loyalty. Pariente will draw on his extensive experiences in opening and managing luxury casinos and resorts in the U.S., Latin America and Europe. Most recently, Pariente served as Executive Vice President, International and Domestic Marketing for Wynn Resorts, where he was a senior member of the opening teams for both the Wynn Resort and Encore Las Vegas, the highly successful gaming resorts on the Las Vegas Strip.

Before joining Wynn Resorts in 2004, Pariente served as Senior Vice President of International Marketing for Caesars Entertainment, where he was responsible for strategy and marketing in building business plans for both the U.S. and international gaming markets in table games and slot play. Before joining Caesars Entertainment as Senior Vice President of International Marketing at Caesars Palace in Las Vegas in 2001, Pariente oversaw marketing strategy and worked to open the Conrad Resort & Casino in Punta del Este,Uruguay for Caesars International. A native of Argentina and a U.S. citizen, Pariente is fluent in English, Spanish, Portuguese and Italian.
"Alex brings a wealth of experience in marketing and operating international luxury casinos and resorts to Baha Mar," said Joe Brunini, President of Global Marketing and Customer Development for the Baha Mar Casino & Hotel. "It is people like Alex that underscore Baha Mar's commitment to becoming an iconic gaming destination."
Pariente believes that training, empowering and promoting employees will give Baha Mar a singular edge. "Our team members will make all the difference in distinguishing the Baha Mar Casino & Hotel as a global gaming destination," Pariente said. "We're targeting an exclusive clientele that has a wide array of travel options and limited leisure time. Our goal is to create unique guest experiences by building a culture of excellence and accountability among our team members and partners. I'm privileged to be part of this amazing opportunity to build an iconic Caribbean resort that will be known worldwide for its ambience and first-class service."
Baha Mar will offer upscale hotels, a state-of-the-art casino, luxury shopping, fine dining, nightlife, outdoor adventures, art galleries, golf, tennis and wellness experiences to compete with the best the world has to offer. Its high-profile partners include a host of outstanding names such as golf legend Jack Nicklaus; ESPA Spa at Baha Mar; and Kravitz Design, the firm led by Grammy Award-winning performing artist, actor and designer Lenny Kravitz.
About Baha Mar
Baha Mar is set on 3,000 feet of white sandy beach just 10 minutes from Nassau's fully renovated and expanded international airport. It will feature an elite collection of hotel brands with gaming, entertainment, private residences, shopping and natural attractions that reflect an authentic Bahamian experience. The resort's Grand Opening celebration is planned for Spring 2015. The Baha Mar Casino & Hotel, managed by Global Gaming Asset Management, includes a 1,000-room hotel and a 100,000-square-foot Las Vegas-style casino. Baha Mar also will include a 700-room Grand Hyatt, a 300-room SLS LUX, and a 200-room Rosewood. Amenities will include a Jack Nicklaus Signature golf course; 200,000 square feet of flexible convention facilities, including a 2,000-seat entertainment venue; an ESPA spa; art galleries featuring Bahamian art; more than 40 restaurants, bars and clubs; global luxury designer and local artisan boutiques; and 20 acres of exquisitely landscaped beach and pool experiences, including a beachfront sanctuary with native Bahamian flora and fauna. In addition, upon completion of renovations, the all-inclusive Melia Nassau Beach will become part of Baha Mar. For more information or to sign up for previews starting in December 2014, please visit bahamar.com.