Source:
Date:
Updated:

PRNewswire
Wednesday, May 22, 2013
Wednesday, May 22, 2013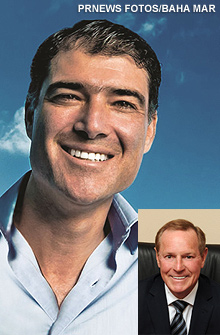 Pictured: William Weidner, GGAM CEO (inset); Sarkis Izmirlian, Baha Mar Chairman & CEO. (PRNewsFotos/Baha Mar)
NASSAU, The Bahamas, May 22, 2013 /PRNewswire/ — Baha Mar Ltd. today announced that Global Gaming Asset Management (GGAM), one of the casino industry's most successful management teams, has been retained to manage the Baha Mar Casino & Hotel, the centerpiece of the $3.5 billion Baha Mar integrated destination resort in The Bahamas, scheduled to open in December 2014.
GGAM's senior executives William P. Weidner , Chief Executive Officer; Bradley H. Stone , President; and Garry Saunders , Executive Vice President, were involved with opening and managing the Venetian and Palazzo in Las Vegas and the Venetian Macao, and participated in the development the Marina Bay Sands in Singapore during their tenure with Las Vegas Sands. They formed GGAM in 2011, after ending their affiliation with Las Vegas Sands. Eric Chiu and his Macau-based Asian team were added shortly thereafter. GGAM's most recent projects include the first phase of the $1.2 billion Solaire Manila, an integrated resort and casino facility in the Philippines that is geared toward Asian and VIP clientele.

"We're excited to bring GGAM, Bill Weidner , Brad Stone , Garry Saunders , Eric Chiu and his Macau-based Asian team to Baha Mar. They believe in our vision," said Sarkis D. Izmirlian , Baha Mar's Chairman and Chief Executive Officer. "These executives have proven themselves in every major gaming market they've entered—Las Vegas, Atlantic City, Macau, Singapore and Manila—and have succeeded against the best in the business. They're a powerhouse of casino management, database marketing, junket operations and convention business, all of which will help to position Baha Mar as the next iconic gaming destination."
The Honorable Obediah Wilchcombe, Minister of Tourism, said, "We've been able to witness firsthand the outstanding international gaming resorts developed by the GGAM team. They are uniquely qualified to take advantage of the pending modernization of the country's gaming regulations to provide Baha Mar and The Bahamas with a sustainable competitive advantage."
Mr. Weidner said, "We're excited to be a part of Baha Mar. Few gaming destinations bring together such a desirable location, high-quality assets, and powerful brand partners. We see a tremendous opportunity to build the Baha Mar brand into a premier name in gaming resorts. GGAM's global experience in developing, opening and operating some of the world's biggest and most profitable casino resorts will be a perfect fit for Baha Mar in targeting customers in key markets, including Asia."
The Baha Mar Casino & Hotel will feature 1,000 rooms and a 100,000-square-foot casino floor with more than 150 table games and 1,500 slot machines, in addition to private gaming salons, in-play sports betting and other cutting-edge technologies. It is the crown jewel of Baha Mar, a stunning 1,000-acre destination resort along 3,000 feet of pristine beach in Nassau, The Bahamas. Baha Mar will also be home to Rosewood Resort, Mondrian and Grand Hyatt, offering a total of 2,200 luxury rooms, suites and residences amongst an array of unique amenities designed to please the most discerning traveler.
About Baha Mar
Baha Mar, which is scheduled to open in December 2014, is set on 3,000 feet of white-sand beach just 12 minutes from Nassau's newly expanded Lynden Pindling International Airport. The resort will feature an elite collection of hotel brands with gaming, entertainment, shopping and natural attractions that reflect an authentic Bahamian experience. The Baha Mar Casino & Hotel, with 1,000 rooms, is the centerpiece of the resort, and includes a 100,000-square-foot Las Vegas-style casino – the largest in the Caribbean region. A 700-room Grand Hyatt, a 300-room Mondrian, and the 200-room Rosewood Hotels & Resorts® complete the extraordinary accommodations at Baha Mar.
Amenities will include the 18-hole, 72-par championship Jack Nicklaus Signature Golf Course at Baha Mar, 200,000 square feet of combined state-of-the-art convention facilities including a 2,000-seat performing arts center and an art gallery with the largest curated collection of Bahamian art; more than 30 restaurants, nightclubs and bars; two spas, including the 30,000-square-foot destination ESPA at Baha Mar; designer retail boutiques, a beachfront sanctuary with native Bahamian flora and fauna, 14 distinctive pool experiences and a private island. For more information, please visit www.bahamar.com.
About GGAM
Global Gaming Asset Management (GGAM) is a world-leading developer of premier destinations and integrated resorts. Comprised of top hospitality, gaming and construction executives, GGAM has played an integral role in the evolution of integrated resorts throughout the world. With game-changing integrated 5-star resorts in their pedigree – a literal portfolio of iconic IR developments that transformed Asia and North America – the team has created beacons of international tourism and hubs of world-renowned entertainment, dining, shopping, and conventions. www.ggam.com.