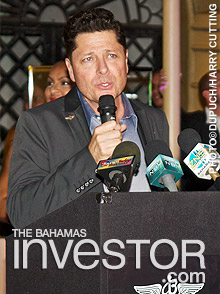 Pictured: Breitling VP (Caribbean) Mauricio Diaz. (Photo Harry Cutting/©Dupuch)
On Thursday evening last week luxury watch retailer Breitling celebrated the grand re-opening of its Nassau store, one of its first boutiques to be established in the Western Hemisphere and rated within the top five of major cities around the world, according to the Swiss manufacturer.
"We present a premier collection of timepieces not seen anywhere else in the world, but only in the major capitals where we have boutiques," said Breitling's vice president Mauricio Diaz on August 18 moments before opening the store, which showcases new, exclusive models just launched at the Basel World watch fair this year in Switzerland.
"Once again we make history by making this presentation of these new timepieces in The Bahamas."
Top movers and shakers were invited to the event, which saw a portion of the capital's busiest thoroughfare, Bay Street, closed to traffic.

Attendees celebrated the re-opening with a night of shopping while sipping on champagne and nibbling hors d'oeuvres.
A Chronomat 44 Flying Fish watch worth $9,000 was raffled to shoppers at the end of the evening. Guests were given Breitlings caps and pens.
When Breitling originally opened its doors in Nassau in 2007, the Bay Street boutique was among the first in the Western Hemisphere to be launched by the luxury brand.
In recent years Breitling boutiques have fanned out, gaining a presence in major markets such as London,Tokyo, New York and Dubai.
In the Caribbean region, Breitling boutiques can be found in St Thomas, St Maarten and Curacao, thanks to a partnership with Little Switzerland.
This year the company marks its 130th anniversary.
"[Breitling] is one of the few luxury brands that is family owned and completely independent," says Diaz.
Describing the new store, vice president of marketing Adam Levitt called it "elegantly re-imagined." Nestled inside The Masonic Lodge the boutique features updated artwork and an easy flow concept for customers to navigate.
"We have much to celebrate," said Diaz. "Bahamians must be very proud as our success in this island nation has been driven by a 100 per cent Bahamian staff."
A tiny nation of 700 island and cays, The Bahamas has a reputation for attracting some of the world's top luxury brands to its shores.
"Breitling is a part of that collection and we're so very proud they are here," said Minister of Tourism Obie Wilchombe, who was on hand for the re-opening and ribbon cutting.
The country's tourism prospects are looking bright, according to the Minister, who said that he hopes to see The Bahamas become the "premier global destination."
Tourists and flights numbers are up and more airlift is expected in the next several months, he added.
"This means there will be more opportunities," said Wilchombe. "Breitling has already informed me that things have been good and they are looking better."
Pictured: (from left) Breitling VP of operations Jack Coote; Bahamas Minister of Tourism Obediah Wilchcombe; and Breitling VP (Caribbean) Mauricio Diaz. (Photo Harry Cutting/©Dupuch)
tblair@dupuch.com