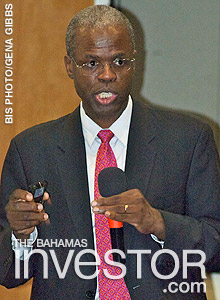 Pictured: Financial Secretary John Rolle explains VAT at a previous forum. (BIS Photo/Gena Gibbs)
Legislation concerning the proposed new value added tax (VAT) regime is "imminent," according to Financial Secretary John Rolle, who said yesterday that the government was "sensitive" to the business community's impatience to see the regulation, and promised that it would be made public "very soon".
Speaking at a luncheon hosted by the Bahamas Chamber of Commerce and Employers' Confederation (BCECC), Rolle said widespread tax reform was necessary in The Bahamas to address the widening gap between the government's expenditure and its revenue.
"The issue is not one of VAT. This is an issue about needing to reform public finances for the great good of the economy," he said. "We have a tax system that is skewed too much towards goods."

The government is aiming to reform the tax regime by July 2014, as part of its bid to become a full member of the World Trade Organization (WTO). Rolle said the move to a VAT system would broaden the tax base, prove superior to a sales tax in terms of collection and compliance and be "positive for long-term growth."
Rolle reassured the business community that the government was focusing on increasing public awareness of what the new regime will involve, saying: "We will be spending a lot of time educating business [and] getting business comfortable with the process."
Wayne Lovell, senior director of tax for KPMG Barbados, also spoke at the event, which took place in the British Colonial Hilton. He warned businesses to ensure their staff were adequately trained and advised them to invest in consultancy services if necessary.
"Make sure you have at least two people that are familiar with the filling of the VAT returns," he said.
"Some companies may have to hire accountants. It may seem a cost you do not want to bear, but it pays off in the long run."
"Once the system is running it becomes very comfortable and allows you to run your business better."
As the countdown continues to the VAT implementation date, the government is working with the Bahamas Institute of Chartered Accountants to deliver training, workshops and seminars throughout the country.
Representing the private sector, the BCCEC has formed a coalition for tax reform that will report to government.
Delivering the opening address at yesterday's event, BCCEC CEO Edison Sumner said: "We want you to know that [the coalition] is intended to be a very constructive and collaborative effort. We hope to do an analysis sector by sector and we have engaged a broad cross section of industry associations."
"We hope, at the end of the day, we have tax reform that is good for the economy and good for government revenue, but does not negatively impact business."
cmorris@dupuch.com