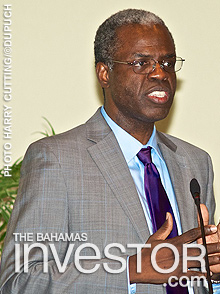 Pictured: John Rolle, Financial Secretary in the Ministry of Finance speaking at the Grand Bahama Business Outlook held at the Grand Lucayan Beach & Golf Resort in Freeport, Grand Bahama on 27 February 2014. (Photo Harry Cutting/©Dupuch)
The government is preparing to publish guidelines on the application of value added tax (VAT), as it gears up for comprehensive reform of The Bahamas' tax system.
Addressing attendees at the Grand Bahama Business Outlook today, financial secretary John Rolle (left) announced that the guidelines would be made available to the public "within the next couple of weeks."
"Time is not on our side, there has to be an intensification of this process. The government has to show continued movement," he added.
The government hopes to introduce VAT by July 2014 in a bid to reduce debt and improve revenue. Rolle said reform was "desperately needed" to address a $500-million shortfall in the government's budget.

"We cannot have sustainable growth for our economy if we do not have the public finances on a stable footing," he said.
"This is a bigger discussion than just about VAT. We have to think about a framework that is considerate of the social issues. The reforms have to address growth and employment."
According to Rolle, the government is currently revising the draft legislation to incorporate feedback from the private sector. He said the Ministry of Finance welcomed this kind of input from the business community, which has helped educate the public on the proposed changes.
"We are very encouraged by the level of the discussion in the private sector, that helps reinforce public understanding of the direction we should be going in."
In his address at the conference, which took place at the Grand Lucayan resort in Freeport, Rolle outlined the structure of VAT, how it will be implemented and possible alternatives.
He rejected other means of taxation, such as payroll, property, corporate and income taxes, saying they would not generate the kind of funds the government needs and could negatively affect the real estate market and the level of foreign direct investment into The Bahamas.
Additional speakers at the 16th annual Grand Bahama Business Outlook included Minister of Tourism Obie Wilchcombe and Minister for Grand Bahama Michael Darville.
cmorris@dupuch.com