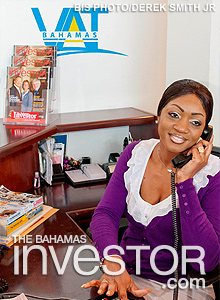 The Ministry of Finance announced today that it has launched a hotline with experts standing by to answer questions about the proposed value added tax system set to go into effect July 1.
The hotline number is 225-7280. It is staffed between 9 am and 5 pm daily Monday-Friday. The VIBE line is toll-free throughout The Bahamas.
"Since we launched the number two days ago without a lot of fanfare in the testing stage, we have had very interesting calls reflecting that people understand change is needed, but they just want more information," says financial secretary John Rolle.
"What we have heard so far is evidence that the greatest need for information is on the part of the consumer as businesses have made it a point of learning as much as they can to date. It's clear that the upcoming schedule for VAT items and exemptions will be very helpful."
Government intends to publish the first schedule for consideration on January 17.
A series of town meetings is planned with the first set tentatively for Exuma next week.