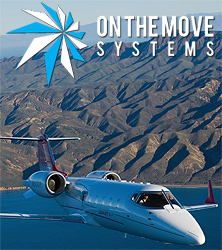 TAMPA, Fla.–(BUSINESS WIRE)–Moving aggressively to fill out its portfolio of transportation partners, On the Move Systems Corp. (OTCBB: OMVS) signed a letter of intent to offer air transportation services from the Naples Connection, Inc., on its new online portal now in development.
The Naples Connection is a Florida company that delivers online deals on flights, cruises, hotels and travel. OMVS has already begun conducting due diligence toward possible joint ventures, partnerships and other strategic opportunities with the company. The Naples Connection could soon be OMVS' first partner to share in charter, travel and cargo revenues, beginning with transport to the Bahamas.

While terms are being negotiated, work continues on OMVS' groundbreaking ISTx platform, the digital heart of its plan to compete in the $300 billion online transportation industry by offering niche services such as private air charters, intermodal transport, luxury driving, pet shipping and more. Last week, OMVS inked a letter of intent with JetSet Car Service, an expansion-minded luxury chauffeured car service based in Houston.
Under the terms of potential definitive agreements, the Naples Connection, JetSet and many others would reap the benefit of OMVS' innovative online marketing strategies while providing top-flight service to travelers and shippers through the portal. This year, a third of all travel sales around the globe will be booked online, according to a report by the travel research company PhoCusWright. Online bookings are growing twice as fast as the total travel market. The largest online portals, however, typically focus on the major airlines, leaving many travelers out in the cold. OMVS views this shortfall as a major market opportunity.
The ISTx platform is key to OMVS' plans to market and develop new solutions that will allow it to compete in the online travel market alongside Priceline.com (NASDAQ: PCLN), TripAdvisor.com (NASDAQ: TRIP) and Expedia.com (NASDAQ: EXPE).
For more information on On the Move Systems' bold new direction, please visit www.onthemovesystems.com.
About On the Move Systems, Inc.
On the Move Systems, Inc. (OTCBB: OMVS) is focused on the development of cutting-edge technology across a broad spectrum of industries. The company is currently exploring new online tools to reduce costs and increase convenience in the tourism and transportation industry. For more information, please visit our website at www.onthemovesystems.com.