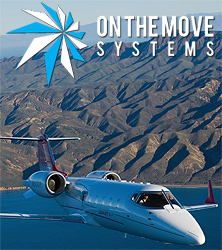 TAMPA, Fla.–(BUSINESS WIRE)–In its quest to offer the best cargo shipping options on the Web, On the Move Systems Corp. (OTCBB: OMVS) is currently negotiating a development agreement with a Florida-based transport company offering shipping to the Bahamas and Cuba.
OMVS has been scouting promising intermodal freight transport companies for potential partnership and acquisition since August. The company is working to revolutionize the way cargo transport services are bought and sold by developing a new online platform that applies the same business model used by companies such as Expedia, Travelocity and more to travel and transportation options not offered by its larger competitors.

Partnering with established, successful intermodal transport provider represents a major step forward for OMVS in achieving its goals, says OMVS CEO Robert Wilson.
"The company we're in talks with is a successful, growth-oriented company that can offer services that customers want, but can't easily get online," he said. "Offering options unavailable elsewhere is what's going to make our new online transportation portal a success."
By delivering easy, round-the-clock access to niche service providers, OMVS plans to market new technology solutions that will allow it to compete in the online transportation market alongside Priceline.com (NASDAQ: PCLN), TripAdvisor.com (NASDAQ: TRIP) and Expedia.com (NASDAQ: EXPE).
For more information on On the Move Systems' bold new direction, please visit www.onthemovesystems.com.
About On the Move Systems Corp.
On the Move Systems Corp. (OTCBB: OMVS) is focused on the development of cutting-edge technology across a broad spectrum of industries. The company is currently exploring new online tools to reduce costs and increase convenience in the tourism and transportation industry. For more information, please visit our website at www.onthemovesystems.com.
Notice Regarding Forward-Looking Statements
Safe Harbor Statement under the Private Securities Litigation Reform Act of 1995: This news release contains forward-looking information within the meaning of Section 27A of the Securities Act of 1933, as amended, and Section 21E of the Securities Exchange Act of 1934, as amended, including statements that include the words "believes," "expects," "anticipate" or similar expressions. Such forward-looking statements involve known and unknown risks, uncertainties and other factors that may cause the actual results, performance or achievements of the company to differ materially from those expressed or implied by such forward-looking statements. In addition, description of anyone's past success, either financial or strategic, is no guarantee of future success. This news release speaks as of the date first set forth above and the company assumes no responsibility to update the information included herein for events occurring after the date hereof.
Contacts
On the Move Systems Corp.
Robert Wilson, 813-367-9511
President and CEO
info@onthemovesystems.com