Education, Science and Technology Minister Jerome Fitzgerald, Minister for Grand Bahama Michael Darville and chairman of the College of The Bahama Alfred Sears September 18 held talks with senior officials from the Grand Bahama Port Authority (GBPA) on the way forward for the College of The Bahamas' Northern Campus, and how the Ministry and the GBPA could strengthen collaboration efforts, and improve COB's campus facilities in East Grand Bahama.

Fitzgerald described the talks as being very productive.
High on the agenda were the expansion of the hospitality and tourism sector, and the maritime academy.
The Education Minister also held discussions with officials from the Bahamas Oil Refining Company (BORCO) with respect to the company's training programme, operated under the BORCO Institute.
BORCO has leased spaced at the old Lewis Yard School to continue with its training programme, where it offers free electrical training, and welding courses to young Bahamians.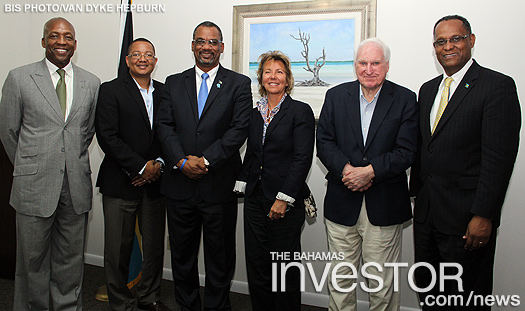 Pictured: (from left) Alfred Sears; Ian Rolle, vice president GBPA; Fitzgerald; Sarah St. George, vice chairman GBPA; Sir Jack Hayward, chairman of the GBPA group of companies; and Minister Darville. (BIS Photo/Vandyke Hepburn)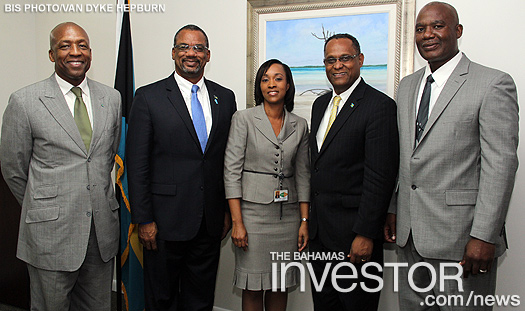 Pictured: (from left) Sears; Fitzgerald; Kim Pratt (BORCO); Minister Darville; and Greg Laroda, BORCO. (BIS Photo/Vandyke Hepburn)