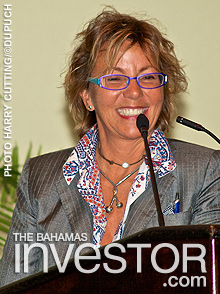 Pictured: Sarah St. George, Grand Bahama Port Authority (GBPA) Vice Chairman speaking at the Grand Bahama Business Outlook in Freeport, Grand Bahama. (Photo Harry Cutting/©Dupuch)
The phase five expansion of the Freeport Container Port is "imminent", according to vice chairman of the Grand Bahama Port Authority (GBPA) Sarah St George, who added that the project is being timed to co-incide with the 2015 expansion of the Panama Canal.
The Panama Canal is expected to double its capacity when its expansion is completed next year. Freeport's maritime industry is predicting a huge boost in business from this project and St George says the phase five expansion of the city's container port will allow it to process up to 2 million TEUs a year and create 200 jobs over two years.
"The shipping business is shaping up to be something we have never seen before," she told attendees at the Grand Bahama Business Outlook in Freeport last week.

"[The expansion will] transform the port into a flagship port and grow Freeport into a first league terminal."
The vice chairman highlighted the indirect benefits of the port's expansion, noting that it would boost the local real estate market and create more business opportunities for both Bahamian and international entrepreneurs.
"A healthy port is a healthy Freeport," she said.
St George also spoke of the progress Freeport has seen since the Hawksbill Creek Agreement was signed in 1955, transforming the city into a free trade zone.
She highlighted the impact of international firms, such as oil storage facility BORCO, shipping giant MSC and cruise line Carnival, in contributing to the local economy saying: "Many of us need reminding from time to time of all that has gone into the building of Freeport today, and the Freeport of today is the building block of the Freeport of the future."
"Those companies invested in Grand Bahama [and] in the people of Grand Bahama. They are ready to invest more, millions more."
St George said the GBPA was looking to the future and addressing ways of attracting new business, promoting the destination and increasing employment.
"We cannot just look at ourselves in splendid isolation. We have to consistently re-evaluate ourselves. Remaining competitive is paramount. We must always strive to be the best in class. That is essential in an ever changing environment."
"The Grand Bahama I see is where the opportunities are vast and jobs are plentiful. Freeport has it all. Freeport's time is now."