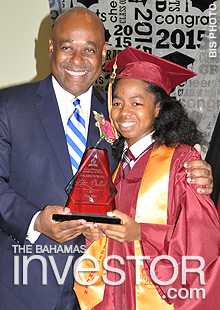 Pictured: Minister for Tourism Obie Wilchcombe with Student of The year Letitia Bullard during the Grand Bahama Academy 7th Annual Graduation Ceremony at the Our Lucaya Resort June 14, 2015. (BIS photo)
Tourism Minister Obie Wilchcombe was the featured speaker at the Commencement Exercise for the Grand Bahama Academy of Seventh-Day Adventists June 14, 2015.
Twenty-four persons graduated during the ceremony, which took place at the Our Lucaya Resort.
Minister Wilchcombe said he was pleased to participate in the event and noted the graduates' achievements. He reminded the students that they can become anything their heart desires once they have the right attitude.
Letitia Bullard was named Student of The Year and Class Valedictorian.