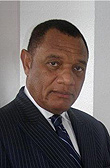 Here follows a statement of condolences from Prime Minister Perry Christie (right) on the passing of Sir Jack Hayward in Florida aged 91:
I am deeply saddened to learn of the passing this morning of Sir Jack Hayward. He was by common acclaim the single most important figure behind the economic development of the city of Freeport, Grand Bahama, in the post-independence era, having succeeded to the leading position held by his late father, Sir Charles Hayward, in the Grand Bahama Port Authority.

Sir Jack was a colourful, larger-than-life personality who was held in great affection by the Bahamian people and by successive governments of our nation. He was widely admired for his candour, warmth, generous philanthropy, and deeply held dual patriotism for his native England and The Bahamas. He was passionately committed to the advancement of Freeport in particular. Through good times and in bad, he remained steadfast in his loyalty to our nation's second city and never lost faith in its future.
Indeed just before embarking on what was to be his last cruise, Sir Jack and his equity partner in the GBPA, Lady Henrietta St George, had joined me in an important conference call to discuss the way forward for Freeport. I was struck at the time by how optimistic and enthusiastic Sir Jack still was about the prospects for the expansion of tourism and industrial development in Freeport, this despite the increasing frailty of his own health and his greatly advanced years. He remained a true believer in Freeport to the very end of his days and had been looking forward to its continued revitalization.
On behalf of the government and people of The Bahamas, and on my own behalf, I extend condolences to Sir Jack's bereaved family, including his extended family comprising his colleagues in the Grand Bahama Port Authority and his many friends and admirers in Grand Bahama, the United Kingdom and beyond.
May he rest in peace.