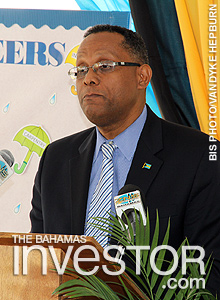 Minister for Grand Bahama Michael Darville addresses the Career Tech Exhibition sponsored by BTVI March 20 in Freeport, Grand Bahama. (BIS photos/Vandyke Hepburn)
The government of The Bahamas is now moving in the right direction as it relates to Grand Bahama, said Minister for Grand Bahama Michael Darville during an address at the Career Tech Exhibition 2013 March 21.
The exhibition was sponsored by the Grand Bahama Campus of the Bahamas Technical and Vocational Institute (BTVI).
"As a trained engineer who understands the complexities of industry and the importance of technical training, I am certainly grateful for this opportunity to share my ministry's plans moving forward," Darville said.
He said that this administration's vision for Grand Bahama revolves around facilitating economic growth and opportunities for all residents.

"As your Minister I am mandated to work, along with our public and private sector partners, in an attempt to diversify our local economy, wean us off government funded social programmes and by way of training programmes in tourism, industry, agricultural and maritime related fields, attract young Grand Bahamians to rewarding careers in order to ensure that they contribute to the growth and development of this island and the country as a whole."
"You can be assured that we are diligently working to diversify our economy, attract direct foreign investment to Grand Bahama, while creating entrepreneurial opportunities for our young people," he said.
He further told the gathering assembled at the BTVI Freeport Campus that the government and his Ministry are all proud of the contributions that BTVI has made to the development of the technical and vocational work force on Grand Bahama.
Darville said that as an institution, BTVI continues to play an important role in training and the government and his Ministry fully support the direction in which the institution is heading.
"Grand Bahama is the industrial and maritime capital of The Bahamas and for this reason, the partnership between the industrial sector, BTVI and other private technical institutions on the island is of the utmost importance if we are to meet the demand for technical training for years to come."
"A recent financial assessment of the industrial sector confirmed economic growth during the brunt of the global economic crisis and the most recent forecast confirmed further growth over the next ten years. This is certainly good news for Grand Bahama, as it allows students to plan careers in disciplines in which jobs will be available," he said.
"Our island has state of the art infrastructure; one of the largest man-made harbors in the world and the deepest in the region; crystal clear waters and an abundance of arable land. Grand Bahama is positioned to be a major player in the global market as a premier agricultural, maritime, trade, transhipment and logistics centre," he said.
The Minister also noted that with the expansion of the Panama Canal presents to opportunity to capitalize on larger markets in the maritime industry.
"At present, our maritime industry, which encompasses a wide range of sectors including ship and mega-yacht repair, oil storage/transshipment and international cargo transshipment, contributes an estimated 14-18 per cent of the gross domestic product of our country."
"In addition, over the years Grand Bahama has successfully housed major industrial companies, including BORCO, Pharmachem, The Grand Bahama Shipyard, Freeport Container Port, Polymer's International and Bradford Marine that have survived, notwithstanding the down turn in the global economy."
"These companies require highly skilled specialists in technical fields to produce, manufacture, store and ship their high end products as well as to maintain their facilities. I am convinced that we have the potential to create hundreds of jobs for Grand Bahamians at these companies, as well as in agriculture, but it is a well-known fact that Bahamians need training in order to take advantage of these lucrative employment opportunities," he said.
He added that Grand Bahamians must take advantage of the opportunities that are currently available at BTVI, which include carpentry, welding, auto-mechanics, plumbing, heating, ventilation and air-conditioning, electronics and cable installation – technical disciplines that will facilitate entrepreneurial and employment opportunities in our industrial sector.
A few weeks ago, the Minister for Immigration and Foreign Affairs announced aggressive plans for immigration reform throughout the country which is directly connected to the Ministry of Labor's newly proposed National Training Program, both of which the Ministry for Grand Bahama fully supports for the island of Grand Bahama, said Darville.
"The Ministry for Grand Bahama and The Ministry of Education in conjunction with the government's National Training Program and our private partners propose to help facilitate the extensive training and standardization of service levels island-wide, in the areas of agriculture, hospitality, industry, health and safety, and provide valid certification for the participants of these programmes."
"We are in the final stages of negotiations with our industrial partners to facilitate the educational and skills development of the local workforce in order to create the work pool necessary for industry to grow and to meet the peak demand for contractual labour needed at the industrial companies," the Minister said
"I believe that when these plans and programmes are put into action, this will secure greater employment opportunities for qualified Grand Bahamians and certainly that is good news for all."