Source:
Date:
Updated:

Cooper Gay
Tuesday, July 30, 2013
Tuesday, July 30, 2013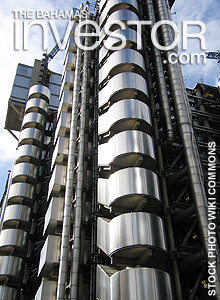 Pictured: Lloyd's of London building exterior, London England. (Stock Photo via Wiki Commons)
Cooper Gay & Co Ltd, part of the Cooper Gay Swett and Crawford (CGSC) Group, has participated in the establishment of the first Lloyd's of London coverholder plaque in the Bahamas, as the broker joined an event to celebrate the launch of Star General Insurance Company Limited's new medical malpractice insurance product.
"Star General, a Bahamian broker, provides general insurance including Life and Health products to both local Bahamian and international companies," Cooper Gay's bulletin explained. "The company achieved Lloyd's coverholder status for medical malpractice insurance coverage in February this year, following an agreement in which Argo International Holdings Ltd (Argo Group) extended their Lloyd's underwriting authority for medical malpractice insurance to the company."

The contract was brokered by the Underwriting & Distribution Management division of Cooper Gay London, who worked with Cooper Gay Re Miami, Argo Group, Star General and Lloyd's of London on the deal. Cooper Gay also serves Star General as a wholesale broker for insurance accounts which require placement outside of the Bahamas.
James Kininmonth, Managing Director of Cooper Gay's Underwriting & Distribution Management division said: "Granting Lloyd's coverholder status is a rigorous process in order to protect Lloyd's business and maintain the integrity of the Lloyd's brand. Star General's achievement of becoming one of the very few coverholders for medical malpractice in the region is a testament to the strength of their company and business and to the hard work of everyone involved in this contract."
Richard Stark, Senior Vice President of Cooper Gay Re, Miami, commented: "Star General's status as a Lloyd's coverholder brings new business opportunities to both the local Bahamian insurance market, and to Lloyd's. We are very pleased to have contributed to this exciting development for access to medical malpractice cover in the region and to Star General's on-going success."
CGSC are the wholesale and reinsurance broker partner of the Brokerslink network, an alliance of 70 member companies operating in 100 countries globally, managing premium volumes in excess of $14 billion. Star General is also a member of the alliance.
Kininmonth described the newly inked contract as a "perfect example of BrokersLink in action. BrokersLink is based on the close relationships of its members and the global pool of local market knowledge they bring to the network. Working with Star and Argo we have been able to identify the requirement for a medical malpractice insurance product in the region, and through our collective industry expertise and local know how, make that product available."
Source: Cooper Gay.