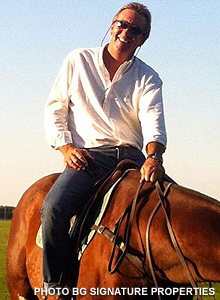 BG Capital Group Chairman Bobby Genovese announced today the launch of BG Signature Properties (bgsignatureproperties.com) — a portfolio of 12 exclusive retreat destinations located throughout the U.S., Canada, Europe, South America and Bahamas — including the flagship BG Equestrian Resort inOcala, Florida.
"We've developed this premium collection of custom travel destinations specifically for the discerning traveler who knows how extraordinary experiences are created, and who appreciates and respects the environments that make these destinations so spectacular," says Genovese.
The collection covers the gambit of locales and experiences for couples and families — from private estates on the shimmering warm waters of the Bahamas and south Florida, a romantic ski chalet in British Columbia's exclusive town of Whistler, and a charming flat in England's spectacular Cotswolds, to a private retreat near Argentina's world-class polo grounds, an enchanting restored farmhouse on the outskirts of Toronto, and a palatial lakefront cottage in an exclusive enclave of northern Ontario.
Moreover, each of the properties are located on protected habitats. "Preserving our natural resources is a cherished tradition in our family, which is why we are devoted to the stewardship, protection and enjoyment of the precious landscapes and resources that embody our collection," says Genovese. "And, with many of our properties bordering acres of land that has been deemed protected and preserved, we are in good company. For generations to come these world-class landscapes will remain home to the stunning natural habitats that we have been blessed to nurture, cherish and now share with likeminded travelers."
For information and reservations contact: bgsignatureproperties.com
BG Equestrian Resort
Equestrian Resort & Cottages, Ocala, FL
A unique equine experience in a remote haven of natural beauty located in the heart of horse country.
The Cottage
Lakefront Summer Retreat, Muskoka, Ontario
Stellar lakefront estate and guest cottages featuring breathtaking panoramic views from every room.
BG Bahamas
Private Island Outpost, Nassau, Bahamas
Our state-of-the-art townhouse located on Nassau's white sand beaches.
BG Boca Raton
Private Waterfront Retreat, Boca Raton, FL
The ultimate waterfront retreat with panoramic views of the Intracoastal Waterway.
BG Farmhouse
Luxury Farmhouse, King City, Ontario
Escape to this haven of natural luxury and tranquility in our tastefully restored 1930s farmhouse.
BG Manor
Cotswolds Retreat, London, England
Enjoy the consummate English experience at our beautifully furnished flat in the Sherborne House country mansion located less than an hour's drive from London.
BG Argentine Polo
International Polo Experience, Pilar, Argentina
For the quintessential polo adventure our international polo fields and country house in world-famous Pilar is the trip of a lifetime.
BG Toronto Polo
Ultimate Polo Experience, Toronto, Ontario
Experience the thrill of polo while enjoying the comforts of home at our stylish studio retreat.
BG Ocala Polo Club
The Sporting Life, Ocala, FL
Learn the "Sport of Kings" from some of Argentina's best instructors while enjoying all of the amenities of our immaculately appointed facilities and stables.
BG
Our Premier Yacht, Miami, FL
The 75-foot BG features four luxurious state rooms with state-of-the-art amenities for your ultimate playground at sea.
BG Chalet
Luxury Ski Retreat, Whistler, British Columbia
Experience the continent's two greatest vertical-rise ski mountains with the largest terrain of any ski area in North America from the comfort of your own five-star chalet.
BG Air
Private Air Travel, Ft. Lauderdale, FL
Reaching your destination in style and luxury is as important as the adventure itself.
Contact: Judy DiEdwardo, 561-844-7212, jdmedia@gate.net