Source:
Date:
Updated:

PRNewswire
Tuesday, September 25, 2012
Tuesday, September 25, 2012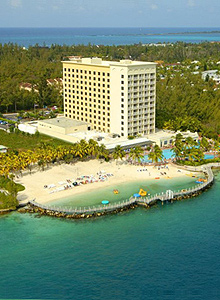 NASSAU, Bahamas and PARIS, Sept. 24, 2012 /PRNewswire/ – Warwick International Hotels (WIH) has acquired a four-star hotel located on Paradise Island in the Bahamas. The transaction is expected to be completed in the near future.
With easy access from the international airport, the Paradise Island Harbour Resort is a beach-front hotel designed to cater to international tourists, business travellers and visitors from the U.S., Canada, South America, Europe and the Caribbean. A full renovation and repositioning programme will be announced soon.
The Paradise Island Harbour resort consists of 246 rooms, each with a view of the harbour and direct access to the beach. This resort is equipped with two restaurants, a lobby cafe/bar, a large outdoor swimming pool and pool bar. It also features conference facilities, a fitness centre and kids' club.
WIH has more than 50 hotels, 6,500 rooms worldwide and is present in Europe, the U.S., Southeast Asia, China, the Middle East, the South Pacific, Africa and the Caribbean. Known for its stately and iconic hotels—Warwick New York Hotel, Warwick Melrose Hotel, Dallas and Westminster Hotel in Paris—WIH has a recognized and proven ability in renovating and repositioning older hotels.
"We are delighted to have the opportunity to completely renovate the Paradise Island Harbour Resort and restore it to its former glory. It is undisputedly one of the best located resorts in the Bahamas with a unique beach and clear turquoise water. It will be one of the finest resorts on the island," said Jean Francois Garnier, Group Director of Development at Warwick International Hotels.
On Sept. 19, 2012, senior officers of Warwick International Hotels met with various government officers and officials of Paradise Island. At the meeting, WIH apprised the government of their plans and intentions to completely refurbish the Resort so it would properly be positioned in accordance with Warwick standards. "WIH is fully confident with its investment in the Bahamas, and looks forward to a long and fruitful relationship with the government and people of the Bahamas," added Garnier. "WIH was pleased to have the full support of the government, Prime Minister Christie and the assurance that the applications will be dealt with expeditiously."
For more details visit: www.warwickhotels.com