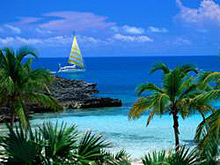 The masterplan development is not only ambitious but will also make use of alternative energy sources, making it eco-friendly.

Orlando, FL. (PRWEB) August 30, 2012 – The planned project is a masterplan design that will include a luxury resort, commercial town center, water park, mega yacht marina, luxury gated community, and golf course. The prospected island has numerous hidden coves with extensive, beautiful beaches and small, colorful villages. It is also a prime bonefishing spot. Such a development will be a boon to the local economy, and greater Bahamian economy as well.
Though remote, the natural beauty of the island targeted for this development offers both excitement and relaxation. With breathtaking, untouched beaches and unusual rock formations, it is a nature lover's dream, with deep caves, coves, colorful reefs, some of the best bonefishing flats and big game fishing spots in the Bahamas, making it ideal for fishers, divers, and snorkelers alike.

The project's financing structure has been designed by Capital Corp Merchant Banking, a middle market international project financing group. The $36.75 million project will be financed through debenture and common stock. Capital Corp Merchant Banking has worked on numerous such projects over the years across the world and is seasoned in providing tailored funding packages for touristic commercial real estate.
The masterplan development itself is ambitious, comprising an all-inclusive themed resort with waterpark, luxury villas, a pedestrian-friendly commercial town center, a mega yacht marina (as the island boasts deep waters as well as flats), timeshares, a luxury gated residential golf community with clubhouse, a 9 hole golf course, executive estate homes, a luxury resort, and possible casino. The project is expected to use alternative energy sources as well, making it eco-friendly.
Part of what makes this project especially noteworthy is its geographic location, as it is located in the center of the cruise ship, yachting, and pleasure boaters' lanes to the Caribbean from the United States. Additional aerial transportation routes are in the works to cater to such an endeavor.
What's more, the Bahamas government has been keen to stay investor-friendly and keep its economy on track, creating investment incentives from which the project can benefit and providing development assistance.
The method by which this project is to be funded is the brainchild of Mr Gilles Herard, Jr. Mr Herard is a seasoned Merchant Banker and has been in the banking industry for 40 years. He worked early in his career at the Toronto Dominion Bank (Canada) and later on joined Manufacturer Hanover (MH) of New York as Senior Credit Analyst. He eventually created his own Firm, Capital Corp Merchant Banking, where he syndicates and structures funding for top companies worldwide, all the while investing his own firm's funds into the projects. As the head of Capital Corp Merchant Banking, Mr Herard has become a leading figure in international middle-market project financing and engineers all funding structures for projects at Capital Corp. Mr Herard has received numerous awards for his work and other contributions including being appointed to the Presidential Business Commission, Honorary Co-Chairman of the Business Advisory Council, nominated as Executive of the Year by the internationally acclaimed National Register's Who's Who, and having received the Senatorial Medal of Freedom, among many others.
About Capital Corp Merchant Banking: Capital Corp Merchant Banking Orlando offers quality Merchant Banking services for a variety of projects worldwide. Capital Corp Merchant Banking has developed close working relationships with groups of Professionals: Specialists in Finance, Commercial Risks Insurance and Re-Insurance, International Accounting Firms and Law Firms, and the largest Valuation Firm in the world. Capital Corp Merchant Banking is solution-oriented and known for being the most flexible Funding Source on the Market in creating handcrafted investment structures to meet the needs of the different constituent groups in each individual transaction. Capital Corp Merchant Banking offers many services: Project Financing, Consulting, Due Diligence, Evaluation of a Business, Negotiating Services, Acquisitions, Investment Approach, and Presentation Reports as well. For further information, please visit the website.