The alliance of two of the world's more significant luxury brands on Paradise Island, both of which are respected globally for their upscale luxury and exquisite service, will further assist The Bahamas in its ongoing efforts to establish itself as a global luxury destination, according to Prime Minister Dr Hubert Minnis.
Addressing the opening of the newly branded Ocean Club, A Four Seasons Resort, on Paradise Island (formerly the One and Only Ocean Club) December 1, the Prime Minister said: "Today is a new day for Ocean Club, blending its history and charm with the ultra-luxury brand that is Four Seasons. Four Seasons Hotels and Resorts, is internationally known for its rich service culture, featuring personal service and attention to detail."

"Ocean Club was one of the first resorts of its nature in the Caribbean [region]. It has a rich history that became synonymous with the emergence of Paradise Island as a luxury destination in the region."
"On behalf of the government of The Bahamas, I congratulate Access Industries and Four Seasons Hotels and Resorts and the Ocean Club on today's milestone. I wish you every success and promise you the support of the government of The Bahamas," he added.
Prime Minister Minnis said the Ocean Club has become a symbol of luxury hospitality in The Bahamas and on Paradise Island.
"Indeed, the iconic resort became one of the signature properties on Paradise Island."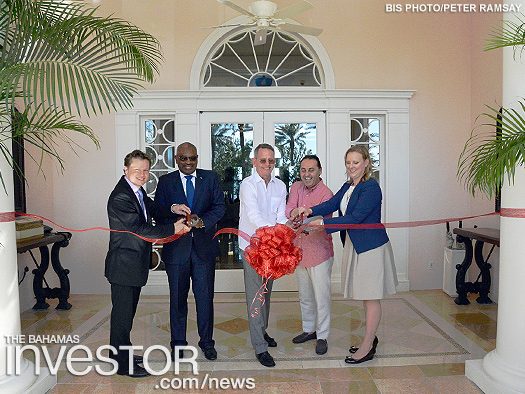 Pictured: Prime Minister Dr Hubert Minnis (second left), along with officials of Access Industries, Four Seasons Hotels and Resorts and The Ocean Club, a Four Season's Resort, at the ribbon-cutting ceremony December 1, 2017. From left: Jonah Sonnenborn, head of real estate, Access Industries; Prime Minister Minnis; John Conway, general manager, Ocean Club, a Four Seasons Resort; Vince Parrotta, president, Four Seasons Americas; and Access Industries, vice president, Annie Wickstrom. (BIS Photo/Peter Ramsay)