Bahamian business owners are being encouraged to contribute to Nassau's revitalization efforts through a range of incentives designed to lighten the load for entrepreneurs and growing businesses.

Under the Hotels Encouragement Act and City of Nassau Revitalization Act, businesses are being offered exemptions from customs duty and property tax if they meet certain conditions.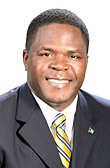 At a Bahamas Chamber of Commerce and Employer's Confederation (BCCEC) seminar held yesterday at the British Colonial Hilton, Minister of State for Investments Khaalis Rolle (left) praised the measures and urged business owners to take advantage of the concessions offered, saying: "The Bahamas does not have the luxury of just chugging along as we have been doing. In a difficult economy you need investor confidence and consumer confidence. I am quite sure there is money out there to be invested."
"I want to assure business owners that they have a friend in the government. Everything we do, I will ensure the business community is kept at the forefront."
Provided they have the correct supporting documents, businesses applying under the acts should have their applications addressed within two to four weeks, according to director of investments in the Bahamas Investment Authority Joy Jibrilu.
BCCEC chairman Chester Cooper (left) commented: "These are extraordinary times and not only are extraordinary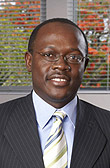 measures required, partnership is [also] required. It is with this in mind that the chamber offers its full support to these initatives."
"We must look to see how we can unlock some of the local wealth to create economic activity, jobs and opportunities," he continued.
The City of Nassau Revitalization Act is part of an ongoing effort to rejuvenate the downtown Bay Street area, which has already seen the transfer of port operations to Arawak Cay and several cosmetic improvements.
The government hopes to draw new commercial and residential facilities to the area to continue the facelift and develop local entrepreneurship.
"The downtown revitalization is an important initative," said Cooper. "I look forward to the day when we can see a new, vibrant Bay Street and downtown."
cmorris@dupuch.com