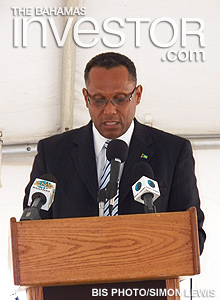 Minister for Grand Bahama Michael Darville September 17 encouraged Emera, owner of the Grand Bahama Power Co (GBPC), to back the government's plan to significantly reduce the cost of electricity on Grand Bahama.
Darville's comments came as he participated in the official opening of Emera's new $80-million 52 mega watts power plant on West Sunrise Highway.
He told the gathering that he is convinced that one of the hindrances to the expansion of the industrial sector and the attraction of potential investors to Grand Bahama is the high cost of electricity.
"But, I am also convinced that the use of alternative forms of energy will bring real change to the cost of electricity and open new doors for the industrial sector to grow, thus attracting many foreign and domestic investors to Grand Bahama in the areas of light manufacturing, pharmaceutical industry and food processing. This will create thousands of sustainable jobs for Grand Bahamians."

"Therefore, I would like to urge the executives of Emera to partner with the government to determine the protocol involved with utilizing alternative forms of energy and the feasibility of its use at your establishment," he said.
He said it is the government's position to move away from complete dependency on liquid fossil fuels and begin exploring the use of compressed natural gas or LNG for power generation in order to lower the cost of energy throughout The Bahamas.
He said that the government is putting in place the necessary legislation to ensure that all regulatory bodies comply with the government's policy and that all meters used by power companies are examined, tested and calibrated to ensure that Bahamians are not overcharged for services.
"However, the government recognizes that it is imperative to develop new policies in order to reduce costs and currently we are taking many steps to do so. For this reason, we have established a National Energy Policy that will carry the country to 2030."
This policy, he said indicates that the demand and usage of fossil fuels in The Bahamas must be reduced, in order for growth in industry to be realized.
"We believe that tapping into sustainable and alternative sources of energy including ocean thermal and solar energy, as well as existing renewable technology and waste to energy technology is the way forward," he stated.