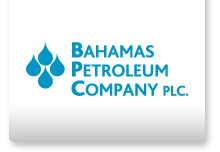 27 September 2016 (BPC) – Bahamas Petroleum Company, the oil and gas exploration company with a significant prospective resource in licenses in The Commonwealth of The Bahamas, is pleased to announce its interim results for the six months ended 30 June 2016.
Highlights
Final passage of the new Petroleum Act by the Bahamian legislature, with the new law formally enacted as at 31 March 2016

Gazettal and implementation of the attendant Petroleum Regulations took place during the summer (cont'd)

Related: Bahamas Petroleum Company – Share price performance.
Note: Any reference to stocks, funds, investments or any underlying recommendation does not reflect the opinion of The Bahamas Investor or any of its contributors.
Highlights (continued)
Process of updating the legal and regulatory environment of The Bahamas in anticipation of future exploration activities completed

Anticipated drilling rig rates now at a quarter of where they were in 2012

Independent analysis by Wood Mackenzie shows that the anticipated well ranks in the top 10 "Drilling and Future Wells by Prospect Size" in estimate of pre-drill volumes

Meaningful farm-out discussions have continued with a number of suitably qualified potential partners

Cost cutting has continued apace – Board elected to increase its fee deferral from 1 April 2016 to 50% of contracted entitlements, 90% for CEO

Company has saved a total of $678k in cash fees / salary outgoings since the deferrals commenced in 4Q 2014

As at 30 June 2016 the Company had a total cash balance of approx. $2.5m
Simon Potter, Chief Executive Officer of Bahamas Petroleum Company, said:
"Significant "above ground" progress has been made this year with the passage of the Petroleum Act and implementation of the associated Petroleum Regulations.  This has further facilitated farm-out discussion activity and we are in meaningful discussions with a number of parties.  At the same time we have significantly cut costs.
"The Company's core assets are compelling as they offer multi-billion barrel potential, competitive metrics, robust profitability at today's oil price, and advantaged location adjacent to the largest offshore operating environment and energy market in the world.  Consequently, we remain confident that we will conclude a partnership agreement within the required timeframes."