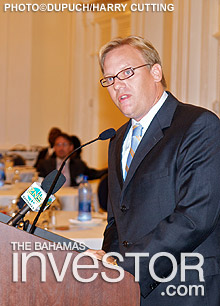 Fresh from promotional trips to Brazil and Panama, the Minister of Financial Services has spoken of the need to target emerging markets in Latin America, and for The Bahamas to fulfill its potential as the "avenue to the Americas."
Minister of Financial Services Ryan Pinder, who represented The Bahamas at financial conferences in Latin America earlier this month, said exploring new areas in the region would help his ministry meet its mandate "to create new financial products, to seek out new linkages and new opportunities to work with international partners."
Giving opening remarks at the Nassau Conference, held at the British Colonial Hilton in Nassau today, Minister Pinder said he would focus on Latin America and new areas of economic growth.

"We in The Bahamas are the gateway to the Americas," he told attendees. "We have a long-standing reputation within the region. We are the pre-eminent jurisdiction for wealth management."
The Minister spoke of the success of new financial products, such as SMART Funds, in enhancing the country's reputation internationally, saying: "The Bahamas has been a nimble country, reacting to the changing business climate and introducing new products in a timely fashion, being able to identify products for the advancement of the financial sector. That is something we are very proud of."
Minister Pinder also praised the level of local talent in the sector and highlighted the need to invest in the next generation of financial services providers.
"We have a history of a knowledgeable and respected professional base here in The Bahamas. Education initiatives are paramount to being on the cutting edge and ensuring our practitioners are able to respond to the demands of the international community."
Additional speakers at the event, which was themed "Preparing Ourselves in a Global Context with a Regional Focus," included director of Credit Suisse Trust Ltd Francesco Vanacore and the chief executive officer and executive director of the Bahamas Financial Services Board Aliya Allen.
cmorris@dupuch.com