Source:
Date:
Updated:

Curacao Chronicle
Thursday, October 11, 2012
Thursday, October 11, 2012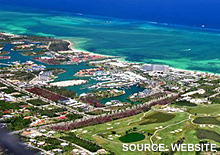 NASSAU, Bahamas – The Bahamas government is trying to develop a partnership with Brazil to build an ethanol plant on Grand Bahama, which could result in the creation of as many as 4,000 jobs, Minister of Financial Services Ryan Pinder revealed on Monday.
"We spoke to one of the largest ethanol producers in Brazil and they have such a high consumption of ethanol they have to look for export markets. They need to look in other jurisdictions. I propose again, Grand Bahama, because of the container port that's there, and the closeness to Andros – you may be able to utilize the sugar cane. Now their estimates were 3,000 to 4,000 jobs that can come out of that one initiative," Pinder told reporters on the sidelines of the Trade in Services Workshop on Monday morning.

"So we're activity looking to see if our soil quality is good enough to meet the standards to grow the sugar cane and all of the technical components to be able to say The Bahamas is a good access point for North America."
The minister said there are several opportunities to do business with countries in Latin America and Brazil. Pinder travelled to Brazil last week seeking investment opportunities for The Bahamas. He said he expects to go on a follow-up trip early next year with officials from the Port Authority to further the discussions regarding the development of an ethanol plant.
He said the government wants to position Freeport as a dominant trade hub for Latin America and Brazil.
This is an excerpt from Curacao Chronicle as it appeared on October 11, 2012. For updates or to read the current version of this post in its entirety, please click here.

Continue reading this post >