The Bahamas Financial Services Board (BFSB) participated in the annual Hedge Fund Brazil Forum in Rio de Janeiro, Brazil, April 3-4. As a sponsor, BFSB also had the opportunity to field a promotional exhibit during the three-day event.
Described as Brazil's premier public equity investor event, the Hedge Fund Brazil Forum is Latin America's most specialized international meeting of hedge funds, long only funds, Brazilian pension funds, Latin American pension funds, Latin American family offices and global endowments, foundations, sovereign wealth funds and pension funds.

The programme delivers cutting-edge due diligence for investors and managers on key questions, such as hedge fund asset allocation among Brazilian, as well as global, pension funds, E&F, family offices and fund of funds, hedge fund regulation in Brazil and key considerations in operational and manager due diligence and economic and hedge fund strategy trends in Brazil, Argentina, Uruguay, Colombia, Mexico, Chile and Peru.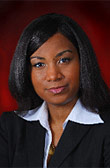 BFSB chief executive officer Aliya Allen (left) says: "Our sponsorship and participation in this conference is in line with the consistent interest and business opportunities we are seeing from Brazil. Brazilian multimarket funds are being transformed from inward looking domestic focussed to alpha-seeking investments abroad. Managers are trying to offer more globalized structures and strategies so that clients have access to international diversification. Brazil is just a small part of this and it is clear that the strategies will continue to incorporate international diversification utilizing competitive jurisdictions like The Bahamas."
Commenting on statistics released by the Securities Commission of The Bahamas, Allen points out that the 25 per cent growth in SMART Funds is not an outlier; it is indicative of the growth potential The Bahamas has in the funds business largely driven by demand in Latin America.
She added: "A few major BFSB projects this year will build upon this demand, including the new legislation we've been working on steadily since the middle of last year."