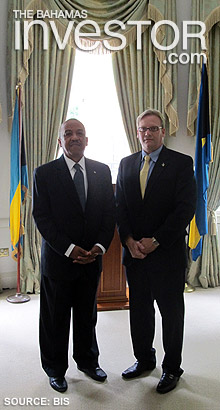 The Bahamas Financial Services Board (BFSB) was in Europe this week, promoting the jurisdiction through its Landfall Bahamas: Destination Europe promotional campaign.
The series of events combined networking opportunities and presentations on The Bahamas financial services sector designed to attract services intermediaries, high-net-worth individuals and investors.
During this tour, Bahamas Landfall events took place in Zurich, Geneva and London.
The high-level delegation included the Minister of Financial Services Ryan Pinder, BFSB chairman Paul Winder and BFSB chief executive officer and executive director Aliya Allen, along with other Bahamian industry leaders.
At the London event, held in the Mandarin Oriental Hotel in Knightsbridge on June 25, Minister Pinder spoke about the advantages The Bahamas has in financial services and highlighted the benefits of recently enacted financial services legislation.

"The financial services sector is the second biggest contributor to the gross domestic product of The Bahamas and the government offers unequivocal support to the industry," he said.
"This is an important event to showcase what The Bahamas has to offer in terms of investment opportunities and financial services."
"The Bahamas has a history of coming up with progressive and innovative products, such as SMART Funds and the International Arbitration Act, which is an important arm to a growing and thriving financial services industry."
Minister Pinder continued: "We believe that we should be the first name off your lips when you are advising your international clients on how to manage their estates. We want to be the first name. We want to show that we have the commitment to the industry, the dynamism and the innovative products that you need. "
The event in London was attended by around 100 leading international financial services providers, lawyers and wealth managers.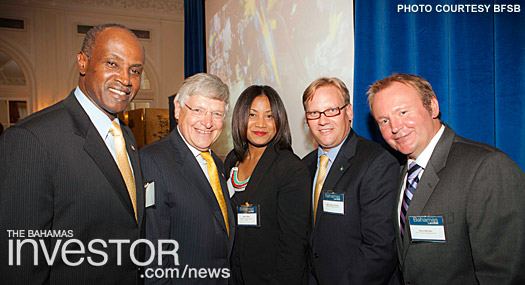 From left: Commodore Davy Rolle, director and CEO, Bahamas Maritime Authority; Ian Fair, chairman, Bahamas Maritime Authority; Aliya Allen, CEO & executive director, Bahamas Financial Services Board; Ryan Pinder, Minister of Financial Services; Paul Winder, chairman, Bahamas Financial Services Board.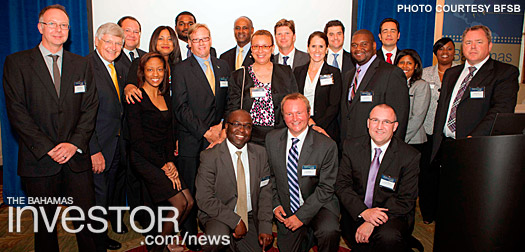 The Bahamas delegation at the Bahamas Landfall: Destination London event. (Photos courtesy BFSB)
scotterill@dupuch.com