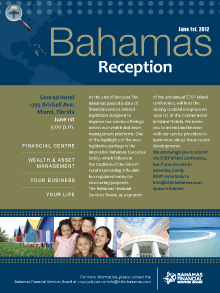 Bahamas Landfall, the highly successful promotional programme by the Bahamas Financial Services Board (BFSB), will be landing in Europe and Miami in June.
The Bahamas Landfall events are designed to provide financial service intermediaries and other service providers with updates on legislative and business developments in The Bahamas and to enable participating BFSB members to connect with potential business opportunities.
Bahamas Landfall: Destination Miami will take place on June 1, as part of BFSB's participation and sponsorship of the third annual STEP Miami conference.

Bahamas Landfall: Destination Europe will take in Zurich, Geneva and London June 18-25, coinciding with BFSB's participation in one of Europe's largest trust events, Transcontinental Trusts 2012,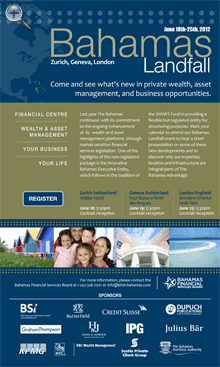 which takes place in Geneva June 20 and 21.
Newly appointed Minister of Financial Services Ryan Pinder, will travel to London to participate in the Landfall event there.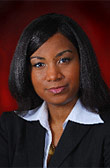 "We are very pleased to have the Minister's involvement in London," said Aliya Allen (left), BFSB chief executive officer and executive director. "His presence and participation will send a strong message on the importance of the financial services industry to The Bahamas and the government's commitment to its continued development and success."
She added: "There is relentless competition from other jurisdictions for the attention of intermediaries and other influencers of business. It is vitally important that we meet face to face with them on their home grounds to establish relationships and to provide them with the type of information that will allow them to consider The Bahamas as a jurisdiction of choice for their clients."
"Bahamas Landfall events are designed to provide a business and social setting to facilitate business discussions and personal interaction. We have received great support from member firms for previous Bahamas Landfall events and anticipate the same type of response for the upcoming events."
Support for Bahamas Landfall: Destination Europe includes sponsorship by a number of BFSB member firms: BSI Overseas (Bahamas) Ltd; Butterfield Bank (Bahamas) Ltd; Credit Suisse AG Nassau Branch; Etienne Dupuch Jr Publications Limited; Graham, Thompson & Co; Higgs & Johnson; International Protector Group; Julius Baer Bank & Trust (Bahamas) Ltd; KPMG; RBC Wealth Management; and Scotiatrust.
Industry partner the Bahamas Maritime Authority also has come on board as a sponsor for Landfall Europe.
BFSB firms interested in participating in Bahamas Landfall events should contact the BFSB office.
The upcoming Landfall events and conference participation in connection with these events are only part of the busy international promotion plan by BFSB in May and June.
Last week, BFSB participated in the STEP Caribbean Conference 2012 in Grand Cayman; and in June it is attending the STEP Canada 14th National Conference in Toronto (June 11-12) and the Fifth Annual US Latin American Tax Planning Strategies Conference in Miami (June 14-15).