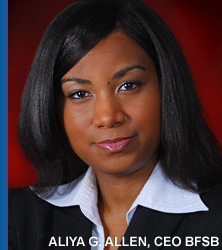 In 2013, the Bahamas Financial Services Board (BFSB) will focus its attention on several key local and international initiatives, according to Aliya Allen, chief executive officer and executive director.
She made the disclosure at the 10th International Business and Finance Summit held at Bimini Bay last weekend.
The summit brought together around 140 financial services practitioners to discuss how the jurisdiction might position itself to "stay head of the game." It included a focus on staying ahead of initiatives of impact to the industry, as well as a focus on collaborating with government to streamline business processes.
Allen said the BFSB has revived its work on tax reform in The Bahamas. A sub group of BFSB's International Initiatives Working Group recently met to discuss particular issues of relevance to the financial services sector.

The group hopes to make concrete recommendations, as soon as the White Paper on Tax Reform is released publicly. The nation is attempting to overhaul its tax structure, moving away from one based primarily on customs revenue collection derived from the importation of goods.
The BFSB has also established a small group to make proposals on the European Commission's announced initiatives on tax evasion and avoidance and proposed guidelines related to third countries applying "minimum standards to good governance in tax matters."
A small sub-group of the BFSB's Fund Group is expected to examine the matter of the Alternative Investment Fund Managers Directive (AIFMD). "We recognize that it's something that requires immediate response," said Allen addressing the issue of AIFMD.
"We really have a short time period in which to decide on what our approach will be."
The private public-sector partnership has approached consultants to provide feedback and identify possible gaps that may exist in the legislation, she added. At the end of the day, the jurisdiction wants to remain compliant and ensure market access for its funds and funds managers.
Another initiative high on the agenda is the Financial Action Task Force's revised guidelines. Allen says the board remains engaged with The Central Bank of The Bahamas, the Office of the Attorney General and the Ministry of Financial Services on the matter.
"There will be a paper produced out of that effort and it will be circulated for industry consultation in short order," she advised.
Meantime, the US Foreign Account Tax Compliance Act (FATCA) remains a hot topic for the board. The BFSB is a part of the government advisory group that is working on the matter. "We will seek to coordinate and collaborate much more," said Allen.
BFSB will also remain focused on its mandate for promotion, with trips to Brazil and other Latin American destinations also planned for the first half of 2013. A busy calendar will be circulated to industry as BFSB seeks to collaborate with the Ministry of Financial Services in raising the profile and visibility of the jurisdiction.
tblair@dupuch.com