Prime Minister Dr Hubert Minnis recently toured the PharmaChem Technologies plant on Grand Bahama.
PharmaChem president Pietro Stefanutti and CEO Randy Thompson hosted the Prime Minister and his delegation at the plant.
PharmaChem is in the process of completing a $180m expansion project, which would add about 80 additional Bahamian staff members.

The company currently employs 71 Bahamians, with 60 being full time.
"We are very impressed with what we see here and we will continue to do all we can as a government to ensure that there is a smooth running of construction and expansion of the facility. That will help us in terms of employment and moving forward," noted the Prime Minister.
The company currently produces the active ingredient of a drug that treats over one million HIV patients and the expansion will allow it to produce two additional drugs.
"We are making great contributions to healthcare throughout the world and I would like to congratulate the staff members of PharmaChem and encourage them to continue the excellent work that they are doing."
Accompanying the Prime Minister were: Minister of Youth, Sports and Culture Michael Pintard; Minister of State for Grand Bahama in the Office of the Prime Minister Kwasi Thompson; permanent secretary in the Office of the Prime Minister, Harcourt Brown; parliamentary secretary, Pakesia Parker-Edgecombe; parliamentary secretary, Iram Lewis; and other staff of the Office of the Prime Minister.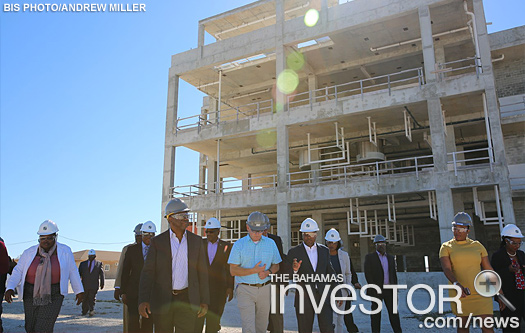 Pictured: Prime Minister Hubert Minnis tours PharmaChem's $180 million expansion project March 16, accompanied by parliamentary colleagues and staff of the Office of the Prime Minister. (BIS Photo/Andrew Miller)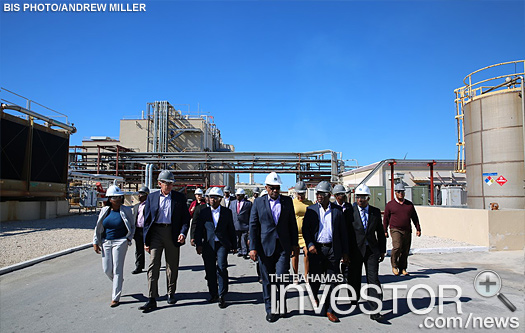 Pictured: Prime Minister Dr Hubert Minnis, and his delegation tour the PharmaChem plant March 16. Shown (from left) are Pakesia Parker-Edgecombe, parliamentary secretary; Pietro Stefanutti, president, PharmaChem Technologies (GB) Ltd; Kwasi Thompson, Minister of State for Grand Bahama in the Office of the Prime Minister; Prime Minister Minnis; Randy Thompson, CEO, PharmaChem; and Michael Pintard, Minister of Youth, Sports and Culture. (BIS Photo/Andrew Miller)