Minister of State for Grand Bahama in the Office of the Prime Minister Kwasi Thompson updated attendees of the Tech Hub Committee Meeting on current and future tech initiatives during a recent event held at the British Colonial Hilton.
The committee was established to advise the government on creation of Grand Bahama as a tech hub.

During the meeting, the Minister informed the committee of current and future initiatives being taken to ensure Grand Bahama is established as the tech hub of the region.
He said: "We see education as an endless door of opportunities for Bahamians from all walks of life. We have incorporated technology in our schools' infrastructure through the Ministry of Education's Digitization Project and have created even more educational opportunities for Bahamians at the University of The Bahamas and Bahamas Technical and Vocational Institute (BTVI )."
ICT Programmes at BTVI and the YMCA have been designed to introduce high school students to the world of technology. The ICT Skills Development Summer Programme was created in partnership with BTVI and this year some 300 students from New Providence, along with 100 from Grand Bahama will all be ICT-trained and certified.
"As the programme continues, the human capacity will expand to 700 plus. These numbers indicate a strong ICT-trained Bahamian foundation for potential incoming tech companies."
The YMCA ICT programme in Grand Bahama, also designed for high school students, trains in Python application, computer coding, robotics, computer technology, as well as mathematics, physics and related skills. It is hoped that 70 students will graduate from the programme this year.
Minister Thompson added: "The Bahamas' approved National Budget opened the window for free tertiary education for qualifying Bahamians at the University of The Bahamas and BTVI respectively. Bahamians are encouraged to take full advantage of these opportunities because education is indeed a privilege that positions us all for upward mobility in whatever undertaking we pursue."
"Our small business owners have not been forgotten. We continually seek new tech entrepreneurs to expand their ideas. These ideas need to be pushed and developed."
Minister Thompson announced a new project, which is slated to start in September, in which 100 members of the public will be trained in various areas of technology. The Office of the Prime Minister will partner with Urban Renewal Grand Bahama and the Department of Social Services.
Five Urban Renewal Centres will be outfitted with 10 computers each and participants will receive training in the Internet of things, software development, website development and other ICT courses.
This training will assist with new skills, retrain for different careers and also obtain professional certificates.
Following Minister Thompson's presentation, the Grand Bahama Tech Hub Committee members discussed a number of matters such as a specific location in Grand Bahama, permanent staffing to continue the initiative, taking advantage of promotion opportunities for Grand Bahama, and strengthening the committee's framework.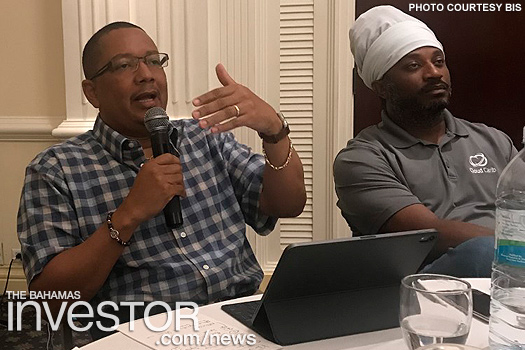 Pictured: Grand Bahama Port Authority president Ian Rolle contributes to the GB Tech Hub Committee Meeting held recently in Nassau. (Photos courtesy BIS)