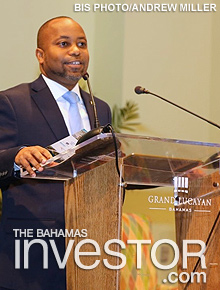 Pictured: Minister Thompson delivers the keynote speech February 21. (BIS Photo/Andrew Miller)
Minister of State for Grand Bahama in the Office of the Prime Minister Kwasi Thompson said yesterday that Grand Bahama is entering a critical period and local businesses should seize the opportunities presented. He made the comments during at the official opening of the Grand Bahama Business Outlook.
The 21st annual Grand Bahama Business Outlook 2019 is being held under the theme "Connecting Resources, Maximizing Opportunities, Transforming Grand Bahama" at the Grand Lucayan Convention Centre.
"This is a critical time for us in Grand Bahama. I dare say, it is one of the most important times in our generation."

A report from the Grand Bahama Port Authority (GBPA) states there has been an increase in approved and issued licenses, as well as the report from Inland Revenue of 388 new licenses in East and West Grand Bahama, the island is experiencing steady growth. With a steady reduction in unemployment and an increase in stop-over visitors in tourism, the island is moving in the right direction but there is still much more to be done.
Giving an overview of what is taking place or about to take place on the island, Minister Thompson touched on the sale of the Grand Lucayan as well as the West End Development. The recently announced Carnival Cruise Port was mentioned, and he advised residents to prepare themselves and seize the opportunity as it is expected that 12,000 passengers will visit the island daily, compared to the 2,000-3,000 that visit twice weekly now.
"So between now and 2020, we have a lot of work to do. Through this project we have an opportunity to reintroduce Grand Bahama to the world as a premier cruise and tourist destination," he said.
"Grand Bahamians, now is the time to think about restaurants, Junkanoo shacks, retail stores, food and beverage logistics, entertainment, native shows, recreational activities. Carnival will not do this, we must!."
"The port will also serve as a transportation hub for tours, taxis and rental cars. This will mean more boat tours, fishing tours, island tours, sports tours like golf and tennis, West End historical tours and East End eco-tours. Carnival will not do this, we must!
"The heavy lifting must be done by Grand Bahamians."
Announcing a new development, Minister Thompson said the government has approved in principle the Western Atlantic University School of Medicine to be located in Freeport. Made up of former Ross University professionals, the newly-formed medical school is now continuing their approval processes and hopes to welcome students in September 2019.
It is expected that the first phase of a $10 million building by the developers will begin and the project will provide 200 jobs.
As Grand Bahama continues to be dubbed the tech hub of the region, two companies GIBC and i-tel BPO, are currently operating on island. "Other companies recently approved under the Commercial Enterprise Act on Grand Bahama include: G.B. Biopharma, a company engaged in biomedical services; DevDigital Bahamas Limited, a Bahamian joint venture web development company; Skyward Techno is another company going through the approval process, a computer software company which developed highly advanced business software solutions. Over the next five years, Skyward Techno has revealed plans to create 100 full time jobs and 180 part time jobs with a budget of $2 million."
Agriculture Enterprises Development Ltd, a Bahamian joint venture farming company that will engage in a pilot fruit and nut farm producing coconut, castor and palm oil for the local market and for export; and another Bahamian joint venture company, Bahamas Golden Harvest Limited, was approved to establish a chicken hatchery, produce eggs, chicken feed, cash crops and citrus on East End Grand Bahama.
"We will make our immigration policy more attractive for tech investment. We are now finalizing draft legislation to create a special visa, known as the BH-1B Visa in keeping with recommendations made by the Grand Bahama Technology Steering Committee. This would be particularly for companies seeking to relocate their development teams to the Bahamas to retain specialized talent. The committee proposes that through the imminent population growth as a result of this program Grand Bahama will see significant economic impact in the areas of housing, national insurance, food, entertainment, education, healthcare and government taxes among other industries."
"Grand Bahama's Small Business Development Centre was also launched in January, he noted.
"This is just another of several initiatives aimed at empowering Bahamians. Grand Bahama, I urge you to take advantage of these opportunities."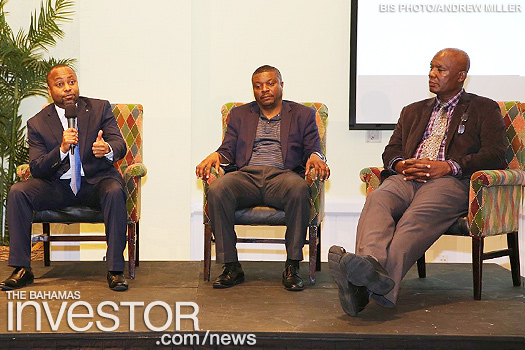 Pictured: Kwasi Thompson, Minister of State for Grand Bahama in the Office of the Prime Minister (left); Zhivargo Laing, chief negotiator for the Bahamas Accession to the World Trade Organization (centre); and Gregory LaRoda, president of the Grand Bahama Chamber of Commerce, interact with attendees of the 21st annual Grand Bahama Business Outlook 2019. The event was held February 21, 2019 at the Grand Lucayan Resort. (BIS Photos/Andrew Miller)