The government of The Bahamas intends to make provisions in the new budget year for substantial expansion in capital investment to bring the country's national infrastructure up to standard.
The new budget year begins July 1, 2018.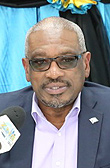 'We need new modern schools, new modern hospital and clinic facilities; we need improved digital infrastructure. We need to repair and rebuild our airports, our roads, our docks and our sea defenses throughout the country," Prime Minister Dr Hubert Minnis said recently.
Minnis said Bahamians "young and old" will be able to see, touch and experience, where their money is spent on public infrastructure.
He said that while Minister of Finance Peter Turnquest was clear that administration officials have had to "hold the reins" on capital expenditure so far this fiscal year, infrastructure development is an area of government activity that will require priority attention going forward.
"Growth-friendly and growth enhancing public investments will need to be a particular priority," he continued. "We will be fully cognizant, however, of the need to arrange for the fiscally prudent means of financing such investment, including an appropriate role for public-private partnerships."
"We intend to make provision in the new budget year for substantial expansion in the capital investment of The Bahamas government, to bring our national infrastructure up to standard."