The government of The Bahamas has said it will "respond aggressively" to recommendations made by the Ease of Doing Business Committee in an effort to address the global outlook on ease of doing business in The Bahamas.
The Ease of Doing Business Committee was appointed last year by Prime Minister Dr Hubert Minnis after a 2017 World Bank Annual Report listed The Bahamas as 119 out of 190 countries for ease of doing business.

The Committee used the 10 categories established by the World Bank to make recommendations to the government.
"Having been a businessman for many years, I know the frustration that business owners feel in complying with certain government processes," Prime Minister Minnis said. "I wish to assure the Bahamian people and the Committee that the government will respond aggressively to the recommendations, including making the necessary legislative and regulatory changes."
Addressing the annual Bahamas Business Outlook Seminar yesterday, Prime Minister Minnis said while The Bahamas was "clearly better" than a number of countries in the Ease of Doing Business rankings, "there is considerable and urgent room for improvement across the board, especially if we seek to be world class."
Prime Minister Minnis said the use of paper confirmation and written certifications from applicants for various licenses and permits in The Bahamas has in the past consumed a significant amount of time.
"The enhancement of E-government systems could make this an efficient technology-driven process for the government," Prime Minister Minnis said.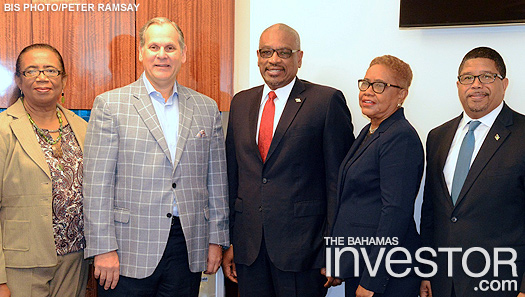 Pictured: Prime Minister Minnis, (centre) at Bahamas Business Outlook January 18, with, (from left) writer Patricia Glinton-Meicholas; Baha Mar president Graeme Davis; The Counsellors Ltd president Joan Albury; and Deputy Prime Minister and Minister of Finance Peter Turnquest. (BIS Photo/Peter Ramsay)