Prime Minister Dr Hubert Minnis has said that he believes that this year will be an excellent year for Grand Bahama.
The Prime Minister's comments came during the official opening of Pirate's Cove Zipline & Water Park, located at Taino Beach, last weekend.

"My government seeks to encourage more of these Bahamian business ventures, particularly in Grand Bahama," said the Prime Minister.
"I have been advised that the investment into this project totals some $1.4 million into the economy of Grand Bahama. I am pleased that Pirate's Cove presently employs 30 persons directly, and they are all Bahamians. They also have an additional 30 persons who are indirectly employed by this entity."
Prime Minister Minnis reiterated his commitment to the second city, noting that Grand Bahama has been a major focus of his government, and he vowed that they will continue to work towards its complete restoration.
The Prime Minister said he would continue to have a personal interest in Grand Bahama to ensure that the economy of the island is revived. He said he also has the same passion for the other islands, as well as the inner city of New Providence.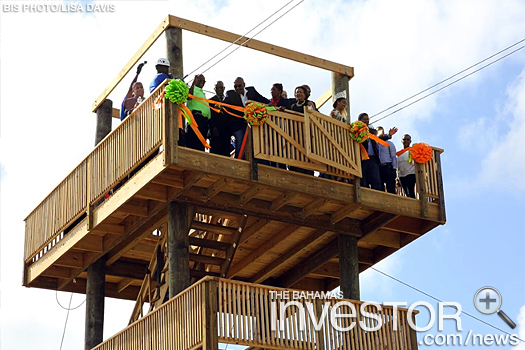 Pictured: Two ribbons were cut by the Prime Minister and the Deputy Prime Minister Peter Turnquest to officially open Pirate's Cove Zipline & Water Park at Taino Beach on Saturday, February 3, 2018. (BIS Photos/Lisa Davis)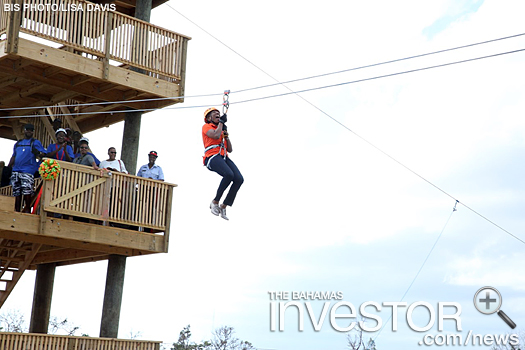 Pictured: Wife of the Prime Minister, Patricia Minnis tries out the Zipline at Pirate's Cove Zipline & Water Park, during opening ceremonies February 3, 2018. (BIS Photos/Lisa Davis)