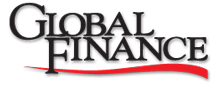 Global Finance magazine has named Scotiabank as the 2017 World's Best Consumer Digital Bank in Latin America and the Caribbean, based on its strength of strategy, success in encouraging clients to use digital offerings, the growth of its digital customers and the breadth of its product offerings.
"We are very proud to have been recognised by Global Finance for the digital solutions we offer to our customers in Latin America and the Caribbean," said Ignacio Deschamps, group head of international banking and digital transformation at the bank. "At Scotiabank we have a global robust digital banking strategy focused on meeting customers' needs and expectations."

Scotiabank was also named Country Winner for The Bahamas and recognised as Best in Mobile Banking regionally.
Global Finance publisher Joseph Giarraputo said: "Digital banking is here to stay, and this year's winners illustrate the importance of relentless innovation in products, systems and services. Corporate and retail clients expect transformative new solutions and this year's winners consistently deliver on those expectations."
Scotiabank has moved to grow its digital operations recently, creating a network of five digital hubs in its priority markets of Canada, Mexico, Chile, Peru and Colombia. The bank is also partnering with FinTech groups and universities to accelerate its digital and analytics capabilities.