Minister of State for Grand Bahama Kwasi Thompson was joined by a number of government and Parliamentary colleagues during a tour of Grand Bahama Shipyard recently.
The tour came following a meeting by the team and executives from the shipyard, where discussions on the success of the shipyard, the apprenticeship programme and the future of the maritime business in Grand Bahama took place.

Representing the government were Brent Symonette, Minister of Financial Services, Trade and Industry and Minister for Immigration; Dion Foulkes, Minister of Labour; Michael Pintard, Minister of Youth, Sports & Culture; Frankie Campbell, Minister of Transportation and Local Government; Kwasi Thompson, Minister of State for Grand Bahama; president of the senate, K. Forbes-Smith; Member of Parliament for Central Grand Bahama and Parliamentary Secretary in the Ministry of Works Iram Lewis; and Senator Jasmin Dareus.
Minister Thompson noted that the visit to the shipyard was the first step in the government's goal in understanding the business opportunities available for Bahamian entrepreneurs.
"We also want to ensure that the public is aware of the fact that the concern is not just about the employment at the shipyard, but also the fact that the shipyard has the ability to provide ancillary services for businesses here in Grand Bahama," added Minister Thompson.
"We are also pleased to continue to work with the shipyard on its apprenticeship programme, which is specifically designed to introduce the business of repair to our young people and to ultimately employ them in the yard."
"I have been advised that there are just under 70 apprentices in the programme; some are in their fourth year and are working full time in the yard."
"I am also advised that there are well over 600 Bahamians working in GB Shipyard between permanent employees and sub-contractors."
Minister Thompson noted that the government continues to encourage the employment of qualified Bahamians at GB Shipyard.
He noted that during their meeting with shipyard executives, before the tour, there were fruitful conversations with respect to employment of very qualified individuals at the Shipyard.
Minister Thompson also took the time to congratulate GB Shipyard for being the largest ship repair facility in the world.
"This is something that we here in Grand Bahama can be very proud about," said Minister Thompson.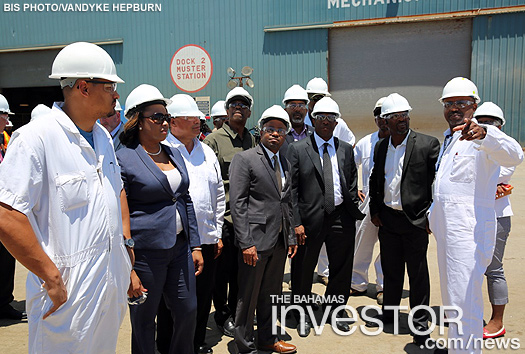 Pictured: Government officials and Parliamentarians meet workers of GB Shipyard during a tour of the facility by government officials on Thursday, July 27, 2017. (BIS Photos/Vandyke Hepburn)
Pictured: Minister of Transport and Local Government Frankie Campbell, Minister of State for Grand Bahama Kwasi Thompson and Senator Jasmin Dareus stroll over a makeshift bridge leading to a ship docking facility at GB Shipyard. (BIS Photos/Vandyke Hepburn)