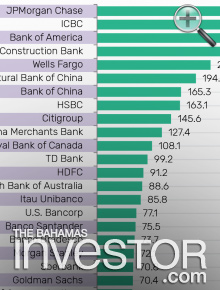 The performance highlights of the top 25 publicly traded global banking institutions in terms of market capitalization (M Cap) for the quarter ended 31 March 2019 have been analyzed by GlobalData, a data and analytics company.
The top 25 reported a 4.6 per cent growth in the aggregate M Cap as on 31 March 2019 (Q1 2019), which stood at of US$3.4 trillion, as compared to US$3.2 trillion as on 31 December 2018 (Q4 2018). There were 19 banks, which reported quarter-on-quarter (QoQ) M Cap growth with Bank of America, Citigroup, China Merchants Bank, Morgan Stanley and Goldman Sachs growing over 10 per cent.
Bank of America's share price grew from US$24.64 in Q4 2018 to US$27.59 in Q1 2019, on the back of better than anticipated revenue and profits growth, lower taxes and strong consumer banking results in FY2018. Despite falling short of revenue target in the fourth quarter of FY2018, Citigroup managed to beat its profit target on account of greater cuts in operational expenses and loan loss provisions.

Parth Vala, company profiles analyst at GlobalData, comments: "China Merchants Bank reported substantial improvement in its share price during the period. It was trading at CNY33.92 as on Q1 2019, as compared to CNY25.20 as on Q4 2018. With greater focus on retail banking, which is comparatively less cyclical in nature, it is an attractive stock to investors especially in the challenging economic environment, unlike its large wholesale banking-focused counterparts."
The performance of all the businesses of Goldman Sachs and record revenues in investment banking and wealth management activities of Morgan Stanley drove their M Cap during the period.
Brazil's largest private bank, Itau Unibanco, was one of the few major banks to suffer a decline in its M Cap, registering a 9.2 per cent QoQ decline. The drop can be seen as the conservative growth target set by the bank for FY2019, in comparison to its competitors.
In terms of ranking, 11 players maintained their position while HDFC, Sberbank and Goldman Sachs jumped two, three and four places to be at 13th, 20th and 21st, respectively. Westpac dropped three places to 25th, whereas Bank of Communications and Scotiabank lost two places each to occupy 22nd and 23rd positions, respectively.